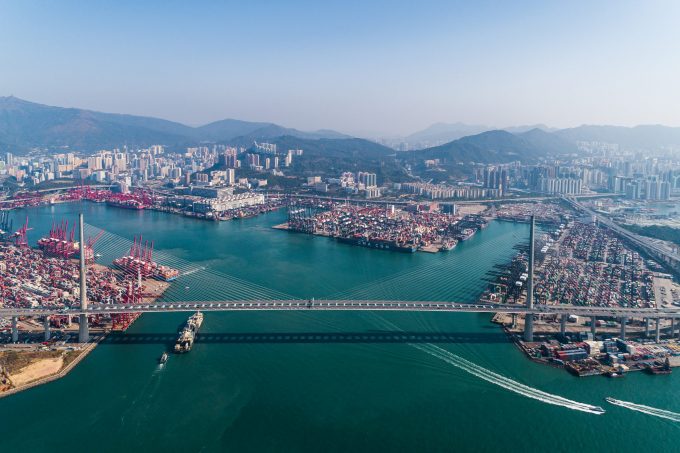 As mainland ports continue to struggle through Covid, Hong Kong's terminal operators are tapping into China's booming reefer imports.
In a repeat of the cargo congestion experienced in February, during China's coronavirus lockdown, Tianjin is the latest mainland port to run out of reefer plugs, after Covid inspections by customs authorities massively slowed down imports.
As a result, shipping lines have slapped surcharges on reefer shipments of $1,000 or more and diverted cargo.
But, according to the Hong Kong Seaport Alliance (HKSPA), Hong Kong has offered "unhindered" reefer operations throughout the Covid crisis.
"HKSPA has provided reefer capacity in times of other ports' closure and reefer plug shortage," said Angelina Lei, customer service director at Hongkong International Terminals, one of the four alliance members.
"We have collaborated with shipping lines to divert and relocate their reefer shipments to Hong Kong, helping them catch up vessel schedules."
Indeed, fresh produce worth more than $3bn is arriving at HKSPA's terminals each year, the group said, with around 60% transported to the mainland.
"Through the deployment of more than 7,800 reefer points – twice the capacity of other terminals in South China – and its high levels of efficiency and productivity, HKSPA expedites every container of fruit through its facilities to enable the freshest delivery to market," it added.
The terminal operators are hoping to seize on the strong growth of reefer volumes, too, given the boom in perishable imports across Asia, particularly China.
For example, HKSPA noted, the resilient fruit trade is the "bright spot" of the container industry. The trade accounts for 35% of global containerised reefer traffic – 3.8m teu in 2019 – and saw 5% growth in the first-half of the year, compared with minus-3% for dry cargo.
Fruit volumes are also expected to grow by 4% a year through to 2024, twice the rate of dry cargo. And China saw 24% growth in fruit imports last year, with the trade forecast to increase by 9.5% a year for the next five years.
Imports of Thai durians are among the current crop of favourites for mainland consumers, Hong Kong's 30 weekly calls with Bangkok helping boost growth by 35% year on year.
The port handles around 900,000 teu of reefer cargo each year out of its 15m teu throughput, and HKSPA says it has focused its efforts on fast customs clearance and intermodal connectivity with the mainland to boost volumes further.
In February it launched an electronic release order so consignees could "collect shipments immediately after discharge and be on their way within 15 minutes". And it also increased barge connections to the Guangzhou Jiangnan wholesale market, which accounts for 70% of China's fruit imports. The barge journey takes 17 hours, or four hours by truck.
However, lying closer to the market is the rival port of Nansha, which has set its sights firmly on Hong Kong's lucrative reefer cargo.
Johannes Nanninga, Port of Nansha's Europe CEO, said Chilean cherries, for example, could be unloaded, cleared and transported to Jiangnan market in two-and-a-half hours.
Nansha is also building six eight-storey cold storage facilities, which will increase the port's storage capacity by 460,000 tons, making it "the largest cold and fresh produce port in South China".