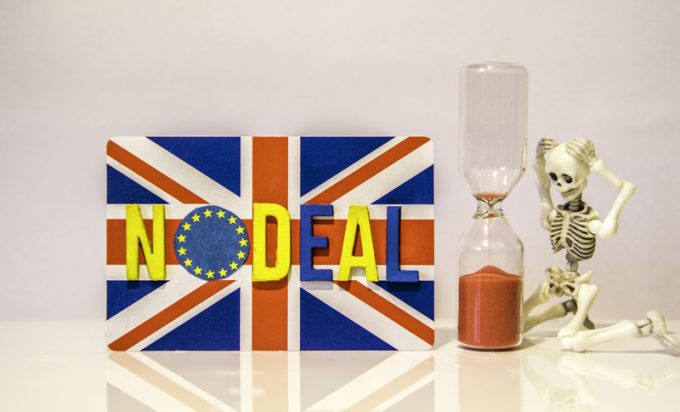 Brexit's continuing comedy of errors may see drivers stranded in ports on both sides of the Channel as a result of the UK government's ongoing failure to prepare and properly advise.   
Head of global and European policy at the FTA Pauline Bastidon told The Loadstar she fears drivers may be caught in a "Catch-22" as a result of divergent no-deal customs processes.   
"Under the plans, documentation for Calais-bound exports will be pre-lodged on IT systems, with the idea that these are then validated once the vehicles are on the ferries," she said.   
"Some IT systems are ready to do this, but others are not, which means on the Calais-side drivers could find themselves with uncleared shipments leaving them trapped in the port."  
Drivers caught in this predicament would lack the correct documents to return shipments to the UK, leaving them with the option of remaining in the French port or dumping their load.  
Leaving their load in Calais would of course incur demurrage charges, which would bring its own problems.   
"It poses a real Catch-22 for the drivers, and there are several problems in this respect as the hauliers themselves are not responsible for the bulk of documents," said Ms Bastidon.   
"These papers are the responsibility of the traders, not the hauliers or the drivers and the government needs to do a better job at making this known."  
She added that in response to the confusion, hauliers could refuse shipments out of fear of being caught in such a predicament.   
This opinion was echoed by head of customs and tax at Gefco, Olivier Thourad, who noted that there could also huge queues on the Dover side of the Channel crossing.  
"There is a real risk you have a lot of trucks waiting on the UK side because while they have the UK export documents, they lack EU documentation," Mr Thourad told The Loadstar.  
"And there are only 100 parking spaces in Dover, while on the Calais side there is space for 50 vehicles to wait, and if they get through to Calais, they could be stopped there too."  
Mr Thourad's fears match predictions made in confidential government papers seen by the Financial Times, which suggested tailbacks outside Dover could stretch to 150km.  
An obvious way of avoiding this would be to have trained customs agents preparing the documentation for shippers.  
However, the UK government has been slow to recognise this and with training taking up to two years to complete, the country is facing a dearth of trained recruits.   
Mr Thourad noted that drivers needed to be made aware of "exactly" what was required for a shipment to move, adding that his company was also advising customers.   
But SMEs in the same sphere have not been in a position to hire fully qualified customs agents as a contingency measure in the event of a no-deal Brexit.  
"Shippers are being told they must do customs documentation themselves or find intermediaries who can conduct this for them," said Ms Bastidon.   
"Only there are no intermediaries, or very few, particularly for SME shippers, which means they will struggle to find customers willing to deal with them.   
"Like the truckers, they are in a Catch-22 as they need customs agents or intermediaries, but the government is failing to provide the means to achieve this."  
Now, with little knowledge on how robust enforcement measures will be, there have been signals that ports outside Kent will also refuse trucks without proof of documentation.   
The UK government's Operation Yellowhammer plans released last week suggested a "low risk of significant sustained queues at ports outside of Kent which have high volumes of EU traffic".  
But Department for Transport (DfT) papers seen by the Financial Times implied this was only because tens of thousands of trucks would be turned away for non-compliance.   
The papers, marked "official sensitive", suggested that in the wake of an abrupt Brexit, the ports of Liverpool, Holyhead and Portsmouth could be expected to reject two thirds of trucks.  
Responding to the report, councillor Gerald Vernon-Jackson, leader of Portsmouth City Council, told The Loadstar his team had been warning of this for "months".  
"We've been telling the government for months and months there would be disruption and now documentation proves that our concerns are justified," said Mr Vernon-Jackson.  
"Our requests have always been for clarity on the situation, for the government to appreciate the role of Portsmouth's port, and appropriate funding."   
This lack of government involvement led the council and the port to take actions on their own to make sure the port was fully prepared.  
Its Local Resilience Forum (LRF) identified the issues facing the port and city, and plans, funded by the council, have been enacted to manage lorries away from the port.   
Mr Vernon-Jackson added: "We always knew that uncertainty around paperwork could cause issues and have taken our responsibilities seriously to make sure we're prepared." 
The Loadstar has previously reported on Portsmouth building up the number of customs agents at its facilities, but it appears this has not been uniform across the UK.