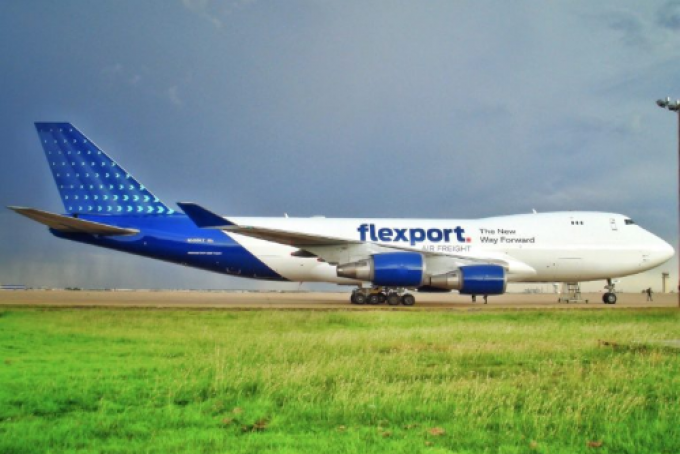 Flexport is to end its own dedicated freighter service, citing changes both to the market and its business, which has seen it expand outside its traditional Hong Kong-Los Angeles route.
The forwarder, which has informed customers of the changes today, has instead set up a series of block space agreements (BSAs), primarily with Nippon Cargo Airways (NCA), but also with carriers including Cathay Pacific and United Airlines.
Its 'private' own-liveried freighter service ends at the beginning of Chinese New Year, on 25 January. Initially, its contract, which was with Western Global Airlines (WGA), was due to run until March 31 2021.
However, in July it switched its contract to NCA's ACMI subsidiary Plus Logistics, and was using an NCA-leased Atlas Air aircraft.
Neel Jones Shah, head of air freight for Flexport, acknowledged that some customers were keen on the 'private' freighter, but said it was the right decision.
"When we started with the freighter in April 2018, the cargo market was going at a torrid pace, with high prices. There was tremendous demand and as a relatively new player, focused on southern China, it was very hard for us to get capacity. Airlines were already over-subscribed and we were unknown.
"We had to manage our own destiny, so the private air service made sense for a rapidly growing business. It gave us a tremendous foot forward, and we'd have had a really hard time growing otherwise."
But things have changed – faster than originally expected.
"It was never our intention to be an airline. The intention always was to transition to a heavy BSA and spot market model, like our competitors. But we've accelerated that timeline."
One market source also noted that airlines are currently offering good terms for BSAs after last year's dismal market, and added that it was a good time to negotiate new agreements.
As Mr Jones Shah pointed out, 2018 saw market conditions change – not only in terms of the price of capacity – but also as tariffs altered the US-China market.
"Our business has changed, with the trade tension, and also with Hong Kong's unique situation. We have only seen single-digit growth out of China, but we have seen high double-digit growth out of south-east Asia. There has been exponential growth there which we hadn't anticipated.
"Our client base has also morphed. To match this transition and migration we've entered into agreements which take advantage of an entire global network. It's bigger than point-to-point.
"It gives us a broader scope, and the ability to take advantage of a top-tier service, especially NCA's handling in North America, which is second to none. It's going to really enhance our product offering and gives us very good access to capacity."
Flexport's new BSA capacity will be less than that offered by the dedicated freighter, but Flexport's procurement strategy will see it make more use of the spot market this year, in line with other forwarders' strategies.
"We are in a better position to procure capacity than we were before," said Mr Jones Shah. "In 2017/18, we didn't even have a team."
Flexport will be a launch customer for NCA's new twice-weekly route to Taipei, which starts in April, but it is also seeing strong growth in Vietnam, Philippines, Indonesia and India.
"We are now serving many more regions than we did, so our supply network had to shift," said Mr Jones Shah.
Shawn McWhorter, president Americas for NCA, added: "This shift is a natural evolution of [our] partnership. The point-to-point charter fitted the needs of Flexport's clients originally.
"Since then we've all seen market conditions and freight patterns change. What companies are looking for today is more flexibility in airfreight origins, destinations, and schedules. This new network agreement, using the entire NCA scheduled freighter service between several cities in Asia to all the gateways in the US, allows us to offer that to Flexport clients."
Of course, the earlier-than-expected shift could come at a cost for Flexport. Although it has renegotiated its contract with "fully supportive" NCA, thus avoiding a harsh penalty for stopping the freighter service, it could add fuel to the fire of another fight it is currently undergoing with WGA over its original broken contract. Although the two companies have agreed to go to private mediation to settle the case, WGA's argument that Flexport had merely wanted a cheaper contract as the market had changed, is perhaps supported by the forwarder's latest shift.
And some customers will be disappointed, acknowledged Mr Jones Shah.
"Some are very focused on 'private' air, and have been there since the outset. We need to have a conversation with them. But others don't know which aircraft their goods go on – we are selling a transit time, not a flight number.
"And our capacity is now spread across the entire week, rather than peaking three times a week.
"There may be an emotional response to the change, but actually market conditions have changed rapidly – and airlines will see this as an incredibly rational move."
Market conditions this year are still an unknown, although recent data has shown a tightening above that of last year.
"if the market expands, could we run into capacity issues? Yes, there could be bottlenecks somewhere, of course, but we are comfortable with our position now."
Flexport's freighter has only just re-started its service after a relatively long Christmas break – but Mr Jones Shah argued that this was nothing unusual.
"We gave 60 days' notice to the airline, based on what our customers had told us of their demand patterns. Yes, our freighter was down longer than, say, those of Cathay Pacific, but we're not an airline and it was nothing unusual. We will now operate until Chinese new year to mop up any last demand.
"Private air put us on the map – but now we've established relationships and feel very confident about the future."