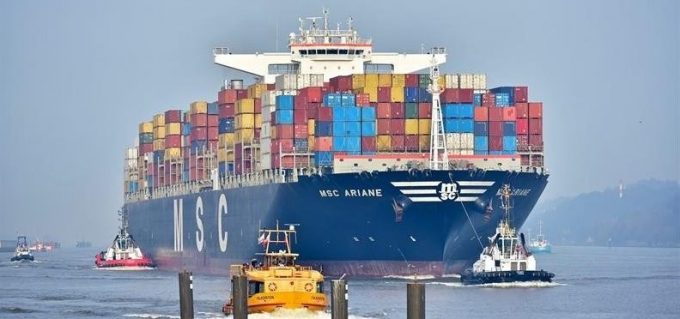 The leasing unit at China Merchants Bank, CMB Financial Leasing (CMBFL), has ordered two 16,000 teu ships from Guangzhou Shipyard International (GSI) for long-term lease to MSC.
GSI, part of China State Shipbuilding Corp, said the dual-fuelled vessels would be sisters to six ships MSC contracted in March.
CMB VP Liu Peng said the company had financed more than 10 ships for MSC and "forged a deep friendship" with the Swiss-Italian liner operator, which is closing in on Maersk's pole position among container carriers.
GSI chief accountant Liu Hui noted that this order was the shipyard's first from CMBFL. The newbuilding price was not disclosed, but is likely to be higher than the earlier order's unit price of $116.9m.
The initial six-ship order from MSC marked GSI's first for containerships, having previously concentrated on building oil tankers, semi-submersible jack-up rigs and ro-ro vessels. Amid weak demand for oil tankers, due to depressed oil prices, GSI decided there was a need to expand its portfolio.
MSC now has 4.08m teu in operating capacity, from 197 owned ships and 416 chartered vessels, and Alphaliner says there are 47 ships, for 852,020 teu, on order. Although it is not clear whether these include those procured through leasing or bareboat charter agreements with Chinese lessors and others, including Cido Shipping and Eastern Pacific Shipping. Unless Maersk embarks on an aggressive vessel acquisition programme, the newbuildings will allow MSC to overtake its alliance partner.
Additionally, MSC has been the most active in buying second-hand ships, with at least 60 bought since last September.
In June, it ordered four 24,200 teu ships, equally split between two other CSSC yards, Hudong-Zhonghua Shipbuilding and Jiangnan Shipyard. Funding for thesewill come from ICBC Financial Leasing and CSSC's leasing unit, CSSC (Hong Kong) Shipping.