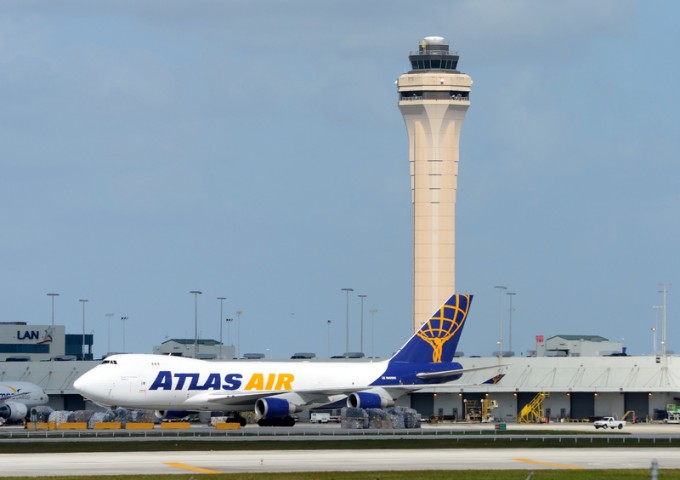 Atlas Air's earnings call with analysts yesterday – perhaps unsurprisingly – focused on the Amazon deal. But as Atlas doesn't comment on individual customer contracts, there was little to be learned.
More important, perhaps, was what else wasn't said.
Atlas did not have great first-quarter results – much in line with the rest of the industry, following a good first quarter in 2015. Adjusted net income was down 70% to $7.7m from $25.8m a year earlier. On a reported basis, net income was down 98%, to $500,000.
It is hard to compare first quarters. The US port congestion last year would have led to greater charter opportunities that would not have materalised this year (although, it noted, yields were up 13% on charters in Q1 2016 over 2014).
Atlas also noted that expenses had gone up significantly – training, travel, the Southern Air acquisition all heaped on cost.
But ACMI was down 38%, and the stable, dry-leasing segment was down 33%. Significantly depressed numbers – but Atlas showed fewer explanatory slides than normal.
Atlas's management, naturally, focused on the carrier's future with Amazon, as well as noting their belief that "results in 2016 will be more reflective of historical demand patterns, with approximately three quarters of our adjusted EPS in the second half of the year".
CEO Bill Flynn added that block hour volumes would increase more than 20% this year. Clearly Atlas has some good things going on – but the bad news was all but ignored.
Much focus was put on the necessary increase in crew numbers and training, as it related to cost. But, as with Atlas's last earnings call, there was no acknowledgement that its pilots are fighting for better conditions, something one suspects the Amazon deal will only further encourage – and the potentially higher costs of a better pilots' contract was not entertained.
The pilot contract question was succinctly dodged by Mr Flynn, who simply said: "My expectation is that our pilot workforce should be happy about … this new [Amazon] agreement we are announcing today, because it's about job creation that will make us a … stronger company."
Pilots are due to vote on possible strike action within the next week or so.
The acquisition of Southern Air, plus an unfavourable comparison with pilots flying for other express operators or airlines, has brought on a state of discontent among pilots. They are advocating other pilots not to apply for jobs at Atlas – which is recruiting – until the contracts are sorted.
As airlines such as Lufthansa know full well, unhappy pilots can be very costly. Merely stating that they will be "happy" to see Atlas expand is to miss – or willfully ignore – the point. Atlas's customers will not be so happy if the planes aren't flying.
Perhaps Atlas's management, (who, incidentally, earn extremely good money) does have plans to put its pilots on a better contract. If that is the case, it is keeping it to itself.
The other party Atlas management described as "happy" – for much the same reasons as the pilots "should be" – is major customer DHL.
Mr Flynn said: "DHL is very supportive of this [Amazon] transaction, and I think more broadly that, ultimately, all of our customers will benefit from the increased scale and scope of our operations that this transaction will drive."
CFO Spencer Schwartz agreed: "This should make us a better company; more scale, more diversification, stronger financially and should be better for all of our customers."
Mr Flynn did broadly acknowledge that Atlas could take business from its customers with the Amazon deal.
"Our other customers, ACMI customers, [are] doing business with Amazon, I imagine," he said.
To some extent, Atlas has always competed with its customers through its scheduled operations. But it has also made the point that it actively supports its customers' business.
This time it could be different. Amazon will become a shareholder and is poised to get a seat on the board. Amazon, one suspects, will get treated royally. Will the synergies that the management says DHL and other customers will benefit from, truly materialise? Time will tell.
Few actual details of the Amazon deal emerged, aside from the fact that much investment is needed. While an unspecified number of the 767s have been bought, more need to be procured – although management "doesn't predict any issues in meeting the delivery timeframe". It says it is working with several conversion companies.
Atlas also said it hadn't yet received a schedule, but expected the operation to be focused on North America.
Amazon has already received the first 10% of warrants. With aircraft 11-20, it will receive another 10%. A second tranche will be offered for any additional business outside of the original 20 aircraft transaction.  It has received the right to appoint a non-voting board observer and could convert that into a director on the board, if it ends up owning at least 10% of the common stock.
While Atlas has vowed to be the internet giant's best supplier, it has got some work to do. Pilots are already claiming management "deceit and intransigence" has put "the stability of their companies and DHL's network at risk".  And it's not only DHL's network now.