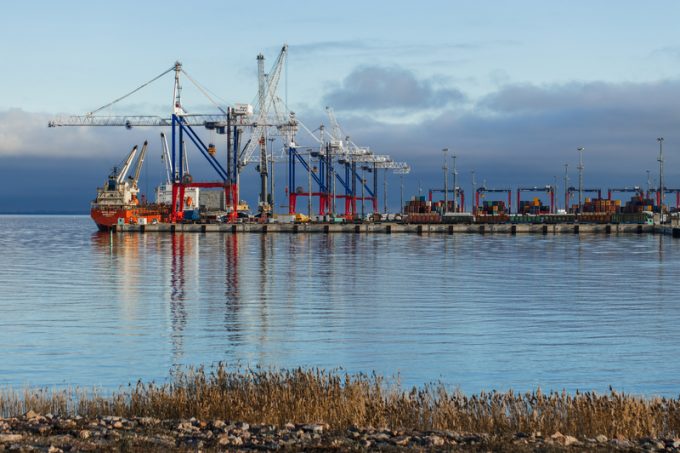 Ocean freight capacity serving Russia's main container gateway of St Petersburg has shrunk to one-sixth of its level prior to Russia's invasion of Ukraine.
According to new research from Alphaliner, in early February, carriers deployed some 95,400 teu across 43 ships into the Russian port, while today, that figure stands at just 15,700 teu, with only CMA CGM and MSC continuing to advertise calls at the port, on one service each.
Alphaliner also notes that Unifeeder and Cosco have made ad hoc calls at St Petersburg since the invasion was launched on 24 February.
Of the lost capacity, some 37,800 teu continues to trade in the Baltic region, the main beneficiary being the transatlantic trade, particularly into Canada and the St Lawrence Seaway, where ice-class vessels deployed by carriers such as Maersk and Hapag-Lloyd are ideally suited.
"Eight 1,380-3,600 teu ships, representing a total capacity of 24,200 teu, have been redeployed on the transatlantic trade, where there is a huge demand for extra capacity," Alphaliner writes.
Meanwhile, seven 800-2,500 teu vessels, with a combined capacity of 10,700 teu, have been shifted to operate North Europe-Mediterranean and intra-Mediterranean strings.
However, any hope for shippers and forwarders that the capacity released from St Petersburg could mitigate the high freight rates and congestion on other trades was likely to be misplaced, says Alphaliner.
"The redeployment of ships previously serving St Petersburg has, however, a minimal impact on the worldwide shortage of containerships, as the 80,700 teu of fleet capacity transferred to non-Russian routes only represents 0.3% of the global fully cellular container fleet," it writes.
Meanwhile, MSC continues to call at St Petersburg on its Ecuador-NWC reefer-heavy string, while CMA CGM advertises a St Petersburg call on its SSLEUR Baltic Shuttle service for June, although not currently for July.