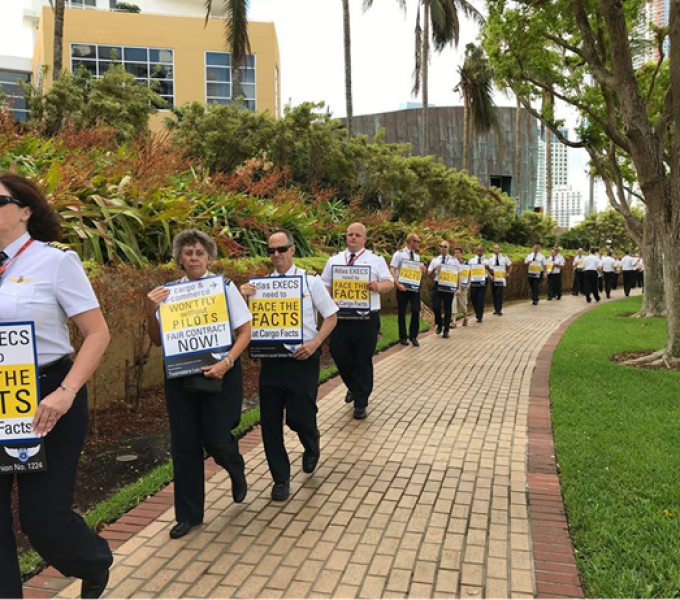 A US judge will hear Atlas Air's request for a preliminary injunction against alleged industrial disruption by its pilots on October 31.
District court of Columbia judge Randall Moss announced the three-day hearing as Atlas pilots protested the carrier's "abusive corporate behaviour" outside the Cargo Facts Symposium in Miami.
Pilots and members of the Teamsters Local 1224 union have concerns about the "intensifying staffing crisis" they claim is driving operational challenges at Atlas.
Executive council chairman of Local 1224, and Atlas pilot, Robert Kirchner said the operation at Atlas was "falling apart" because of "chronic mismanagement" and a lack of operational personnel.
"This lawsuit is nothing more than a blatant attempt by Atlas to pass blame and distract customers' attention from operational failings," he said. "And furthermore, it is a shocking misuse of shareholder dollars that gets us no closer to being able to deliver for our customers."
Responding to the pilots' allegations, a spokesperson for the carrier told The Loadstar it "stands behind" the facts and circumstances outlined in its court filings and encouraged "everyone" to review them.
In the filing, Atlas accuses union members of engaging in "an unlawful, concerted work slowdown to gain advantage in pilot contract negotiations", as well as abuse of sick leave allowances, currently and during last year's peak season.
However, president of Local 1224 Daniel Wells said the union would "vigorously" defend a lawsuit attempting to "undermine" career security and force pilots into a "substandard contract".
Judge Moss has called for the pilots' opposition to the preliminary injunction and witness lists be submitted by October 24, but, Mr Wells said transparency was an issue.
"Despite assurances they would be transparent about their allegations, Atlas denied a request for access to data surrounding the accusations, which calls into question their veracity," he said. "We will develop our defence only after we see the data and subpoena their customers, such as DHL and Amazon, and company employees."
Mr Wells said the lawsuit placed further strain on a carrier that needed a "team effort to dig itself out of a hole it created" by "alienating" pilots and employees by blaming them for management failures.
He added that pilots were "increasingly" leaving a company "that refuses to be upfront about its failing operations and that has shown no ability to fix the problems it has brought upon itself".
Meanwhile, reportedly "dozens" of pilots from Atlas and competitor ATSG have been protesting at the Cargo Facts Symposium over the "intensifying" issues at their carriers.
With Atlas chief executive Bill Flynn and ATSG chief operating officer Rich Corrado due at the event, a spokesperson for the protesters said the issues could "spell trouble" as peak season approaches.