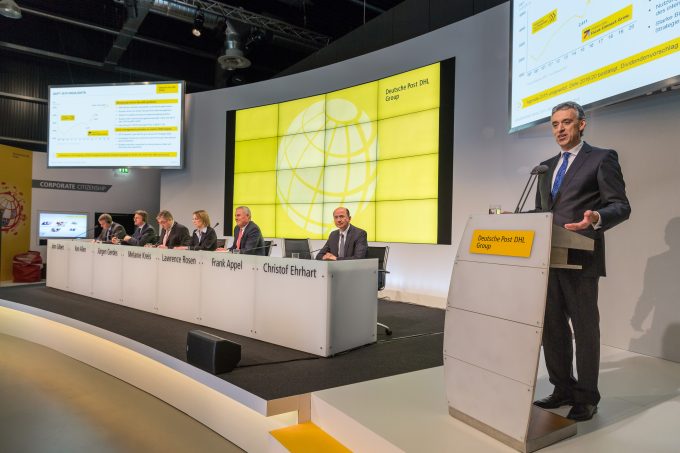 "Our 'Strategy 2020: Focus. Connect. Grow' underscores Deutsche Post DHL Group's goal of becoming the company that defines the logistics industry." – Deutsche Post DHL's 2015 annual results.
Those familiar with Deutsche Post DHL know that ambition and big claims are embedded in its DNA, but after a year of underachievement, are shareholders on the verge of losing faith in its management team?
"Big mistakes have been made, and hope is slowly fading away," a London-based portfolio manager, who has shorted DP-DHL shares for over a year, told me this week.
And a more aggressive corporate strategy "is necessary to deliver shareholder value", a banking source in Munich argued recently.
"Dr Appel and his crew insist they've a few irons in the fire, but they must prove now they know better how the business should be run."
While it's true that the German government retains a significant stake, which could prevent big changes in its corporate tree, institutional and retail investors own almost 80% of the equity, so a shareholder revolt is possible if a more proactive, shareholder-friendly strategy is not set out.
Take one of the biggest stories of the year so far in the transport industry: the rumoured sale of Deutsche Post DHL's forwarding business (DGF).
There always remains a chance that DGF or parts of it will be divested, despite categorical denial from management – but for that to happen, a new management team would have to be installed, and one led by someone able to reinvigorate the freight and forwarding business.
DP-DHL chief executive Frank Appel has little freight experience – prior to joining Deutsche Post's executive management team in 2000 he was at consulting firm McKinsey and is a chemist by education – which is arguably what DGF would need to flourish.
DP-DHL said in its annual results that various measures aimed at "re-empowering the organisation" were introduced in the forwarding unit.
If you wonder how that was done, or what that actually means, here is what the company had to say on the matter: "Structures are being adjusted to grant countries more flexibility in their daily operations and to create better accountability."
Now led by Dr Appel, DGF is responsible for the fall in operating profit at group level, with Ebit falling 20% from almost €3bn in 2014 to €2.4bn last year. Its bottom line dropped by about the same amount to €1.7bn, even though strength in the reporting currency provided a helping hand.
Unsurprisingly, diluted earnings per share dropped some 25% to €1.22; as a result of a poor performance, DP-DHL's dividend was left unchanged at €0.85 per share, but now its payout is seven percentage points outside the top end of the stated 40-60% range.
With regard to its dividend policy, DP-DHL says it hit its annual target on an adjusted basis, but that is only one way to present some key financial figures and doesn't properly reflect underlying trading conditions. That is a problem that also shows in its headline operating cash flow, which DP-DHL says rose 13% year-on-year, when in fact it fell 13% once working capital adjustments are excluded.
"Net working capital was reduced sharply in the reporting year, thanks to improved receivables management, which caused an equally sharp rise in operating cash flow to €487m (previous year €181m)," it noted.
A further reduction in net working capital could be more difficult to achieve this year, based on the level of current assets and current liabilities. On the bright side, however, net debt is falling at a faster pace than I expected following its nine-month results, and that has to be attributed to the near-zero repayment of non-current financial liabilities, which stood at €1bn in 2014.
Nonetheless, annual results showed why DP-DHL would do well to get rid of DGF sooner rather than later, if the right offer emerges.
As it says, the division is faced with a "persistently weak market environment with stiffer competition and increased pressure on margins", even though it still ranks in the top four in air and ocean freight, as well as in the European road transport market.
Following the NFE fiasco, boss Roger Crook left, and the unit recorded over €340m in one-off charges related to the IT issues – but its operational performance is less disturbing, considering its track record.
The drop in revenue accelerated in the fourth quarter, true, and its operating loss for the full year was almost €200m on €14.9bn of revenue (25% of the group's total), but its normalised Ebit between 2008 and 2014 stood at €377m. Meanwhile, annual operating cash flow rose to €487m in 2015 from €181m in the prior year, which suggests that the unit could attract bargain hunters – but DP-DHL "is prepared to deal only with suitors who can afford to pay a full price north of €6bn", my banking source noted.
A possible alternative for DGF would be to shrink by selling non-core assets and then seek a partial spin-out, aiming for a lowly valuation in the region of €4bn, although the level of future heavy investment required is another key element.
"In the global forwarding, freight division, a total of €123m was invested in 2015 (previous year €207m).
"Of that figure, €96m was attributable to the global forwarding business unit, where we invested in turnaround measures," it said – adding that €27m was invested in the freight business unit, mainly "for real estate, equipment and machinery, and software".
Shareholders were reminded that 2015 was a year of transition. The way it looks, 2016 is not going to be very different unless management finds a solution for its freight forwarding business, whose troubles have weighed on trading multiples at group level.
Recent weakness in its stock is in stark contrast with the performance of UPS – up 10% in share value so far this year – and FedEx, whose strong express earnings pushed up its shares almost 12% yesterday.
FedEx's trading update boosted the value of the shares of virtually all the main freight forwarders this week – except DP DHL. Its one-year share performance is down 18%; the shares were in negative territory last year, and they are still down in 2016, while Dr Appel's remuneration package declined only 7% to €8.8m last year.
His mandate runs out in October 2017; the next 18 months will determine his legacy – and DGF will play a big part in it.