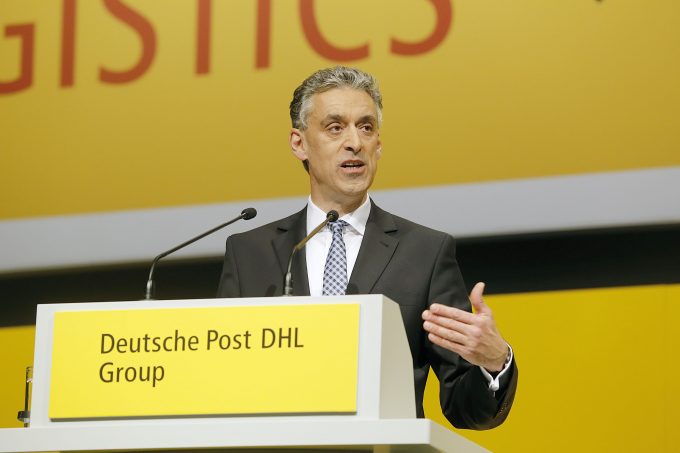 Frank Appel's last outing as CEO of DHL saw the group boast "outstanding" results, and say it was "looking ahead with optimism", despite the new phase of weaker economic growth.
Mr Appel, who leaves in May after 15 years at the helm to be replaced by Tobias Meyer, has had a strong ending to his reign. Revenue hit a record €94.4bn ($99.6bn), up 15.5%, while ebit was €8.4bn, up from €8bn a year earlier. Of that, its internationally operating divisions generated ebit of €7.6bn, up €1bn from 2021. But the group-wide ebit margin fell to 8.9%, from 9.8%.
"We have demonstrated resilience and innovation capability in a challenging environment. Our course and strategy remain well on track. Once again, our thanks go to our employees for their extraordinary commitment in a challenging year," said Mr Appel.
High freight rates contributed to a rise in both revenue and earnings at Global Forwarding, with turnover up 32%, to €30.2bn, and ebit up 77%, to €2.3bn. But air and road volumes fell, 9.3% and 4.8%, respectively, while ocean carryings grew 4.8%, but only because of the integration of Hillebrand. Ebit margin in the division hit 7.6%.
In European road freight, noted the company, "capacity shortages, higher personnel costs, changes to commercial road freight and the significant rises in the diesel prices have led to a considerable increase in costs".
DHL Express enjoyed revenue of €27.6bn, up from €24.2bn, owing to "pricing measures, exchange rate effects and increased fuel surcharges", as well as heavier shipments. But there was a fall in international time-definite shipments, hit by higher costs and negative exchange rate impacts. Ebit fell 4.6% to €4bn.
DHL Supply Chain enjoyed record new business wins of €1.5bn, with total revenues of €16.4bn and ebit of €893m. The division said it would "further accelerate" in e-commerce following the acquisition of Dutch company Monta last year.
The group's two weakest divisions, eCommerce Solutions and Post & Parcel Germany, saw revenue remain broadly flat and fall, respectively, to €6.1bn and €16.8bn.
The group said it would pay some €2.2bn in dividends this year and increase its share buyback fund for 2022-24 by €1bn, to €3bn. Capital expenditure will range between €3.4bn and €3.9bn, while it will also "invest up to €7bn through 2030 to significantly reduce our greenhouse gas emissions, and thereby actively contribute to limiting global warming to 1.5 degrees Celsius".
However, it forecast weaker results for this year, with group ebit expected to fall to between €6bn and €7bn, and free cashflow falling from €4.6bn to €3bn.
But DHL did suggest Europe's energy crisis wasn't as bad as had first seemed, and China's decision to ditch its zero-Covid policy was also a benefit for this year. It added: "Particularly with regard to the core business of air and ocean freight, the further development will depend significantly on whether, and when, the capacity situation eases. In light of the uncertain market situation, this remains difficult to predict, but a recovery in demand is expected in the second half of the year, at best.
"In light of the volatility in capacities and demand, uncertainty with regard to price will remain high. Of additional significance for the air cargo market is how quickly passenger flights resume, which is also closely linked to how the global economy develops. In the European road transport market, depending on economic development, we expect moderate volume growth in 2023, following a cautious start, with prices remaining at a consistently high level."
You can read the full annual report here.