Transpacific air freight rates are surging again, with prices up more than 8% in the past week.
China to the US saw rates rise 8.6% to $5.16, while Hong Kong to the US jumped 9% to $5.35, according to the latest TAC Index figures.
Forwarders have reported, however, that the rates tend to be even higher than the index records.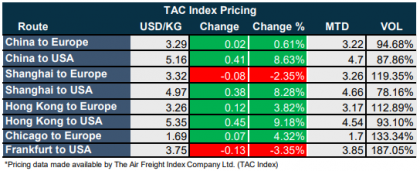 Freight Investor Services (FIS) said rising rates were encouraging carriers to continue to trade in the spot market, rather than opt for longer-term contracts.
"A boost in ex-Asia Pacific prices, perhaps the last thing shippers will want in this market, lifts the curve upwards," it said.
"We would see that this could create a bit of persistence on the carrier side of the market in holding onto spot pricing, creating a bit of instability in forecasting considering the lack of more than month-long fixed-price contracts."
Last week, Loadstar Premium reported recent rumours that DSV was looking re-contract an Atlas Air aircraft, after its ACMI contract for Panalpina's 747 network expired in May. Any potential deal with Atlas looks likely to be for transpacific routes – and with rates surging, it appears that DSV, while wanting to ensure capacity, will also want to avoid exposure to continual spot market rates increases. But it would be a tough negotiation.
FIS suggests companies hedge their spot market buying.
"Near-term volatility has created an action point for businesses wishing to hedge current spot market purchasing. Meanwhile, rising fuel prices (jet kerosene average prices are up 10.8% since last month) will potentially squeeze the margins of passenger freighter and full freighter operators alike, until these costs are either hedged or passed on to the customer."
One forwarder agreed that the rising prices were in part down to the passenger freighters pulling out of the European market: "Passenger freighter capacity is being reduced, as rates are not sustainable to make it viable for them to be operated – KLM, BA etc – therefore the supply has reduced."
Another major cause of transpacific price rises is new demand for PPE in the Americas, where daily infection rates continue to rise.
"As demand to the Americas and Indian Subcontinent is so high, carriers are feeding into these routes with higher yields."
The European forwarder added: "General commodities are really starting to come back into the air freight market with retailers, etailers, manufacturers and other general shippers having requirements now for seasonal air freight, as their backlog stocks run down and are sold through."
And with a rise in second waves of the virus, there is still very little passenger travel, keeping bellies out of action. IATA noted this morning that belly capacity for international air cargo in June was down 70% on last year.
While this was partially offset by a rise in freighter capacity on the market, up 32%, overall global capacity was down 33.9% for international operations, year on year, while demand in cargo tonne km was down 19.9%.
"Cargo is far healthier than the passenger markets, but doing business remains exceptionally challenging," said Alexandre de Juniac, IATA's director general.
"While economic activity is re-starting after major lockdown disruptions, there has not been a major boost in demand. The rush to get PPE to market has subsided as supply chains regularised, enabling shippers to use cheaper sea and rail options. And the capacity crunch continues because passenger operations are recovering very slowly."
Of course, while there are expectations of a peak anyway, there are also growing concerns that if a vaccine for Covid is found, air freight demand will soar beyond all capacity availability.
You can see IATA's full analysis here.