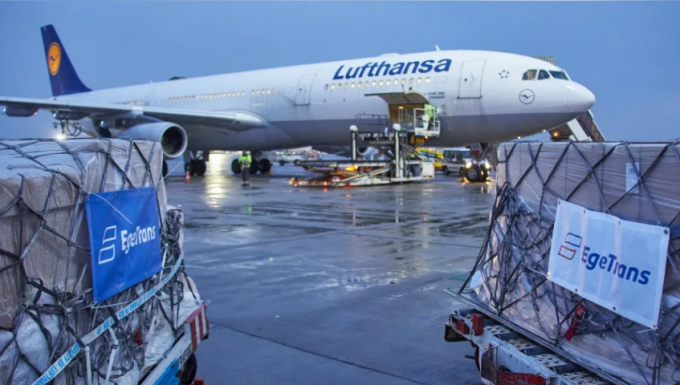 The chaos and congestion in southern China ports has yet to significantly impact air freight, which saw a dramatic lull in demand towards the end of May.
Carriers are expected to cut capacity slightly, as air cargo moves into its traditional low-demand months of the year.
One European forwarder said the "ex-China air freight market fell off the proverbial cliff edge" in the last three weeks of May.
But: "Other areas are still buoyant, not mega, but reasonable levels – South-east Asia, Indian sub-continent and Bangladesh are incredibly busy. There are definitely some flights being cancelled, or simply not operated, which stops losses if freight is slack and decreases supply, pushing up demand.
"However it really isn't as busy as anticipated, although June/July are traditionally the slowest months of the year for air freight, which shouldn't be ignored."
He added that the Suez crisis in March saw "a decent amount of distressed ocean freight moving by air due to delays" – but despite predictions that the port congestion in Yantian and other southern Chinese ports would have a bigger impact on supply chains than the canal blockage, he said there hadn't been modal shift.
"We are not seeing many orders being converted currently from ocean to air – it's curious. The market has softened, and I am not sure why really."
He suggested that air freight rates may have become "so high that it is not viable or feasible".
A Shanghai-based Chinese forwarder agreed: "I am not aware of any increasing air freight demand caused by Yantian port congestion, due to a huge price difference. I reckon few shipments are so important that they need to swap to air freight."
He said that while rates had softened during May, they had been steady since. But he added: "Due to the current low price level , I have heard some airlines will hold back some regular 'passenger-freighter' services starting from July.  Also the frequency of some charters might be either reduced or cancelled.
"I guess we will see more of those in July and the first half of August. Then, because of less supply, we might expect a price rise once again."
The air freight market has become harder to analyse, with charters and passenger freighters creating different rate levels. Charter brokers said they had seen constant demand.
"We have been booking passenger freighters for charters constantly since the beginning of Covid, so no change there," said Mike Hill, senior VP Asia Pacific for Air Partner. "In fact, now the only difference is that these aircraft are rarely [chartered] for PPE, but for general cargo, ever since the sea freight woes of port congestions and container shortages began.
"The passenger freighters have been very competitive for dense cargo, compared with freighter rates."
He said the market dropped briefly in May, following the recovery after the Suez blockage, with more freighters available for charter, and at lower rates.
He added: "The passenger-freighter rates however don't seem so dynamic in reacting to market fluctuations. This is probably due to some passenger-freighter capacity being taken out as more aircraft are refitted for passenger operations following the loosening of some Covid restrictions.
"Currently, the competitiveness of passenger freighters over freighters is less significant than it used to be."
He said there was a noticeable increase in charter demand for June, and Air Partner was looking again to passenger-freighters, as there was low availability of normal freighters. "We can expect rates to rise again."
Air Charter Service told The Loadstar: "It's very hard to unpick what additional demand is coming from sea port congestion, what's coming from the Covid-19 outbreak in Guangdong (resulting in truckers not wanting to do cross border Hong Kong/Guangdong  or Guangdong/rest of China), and what is simply regular airfreight."
Meanwhile, Lufthansa Cargo revealed it had operated 50 passenger-freighter flights since December for customer EgeTrans Internationale, shipping parts for the agricultural and utility vehicle industries. It has operated some 1,500 passenger-freighter flights since the pandemic began.