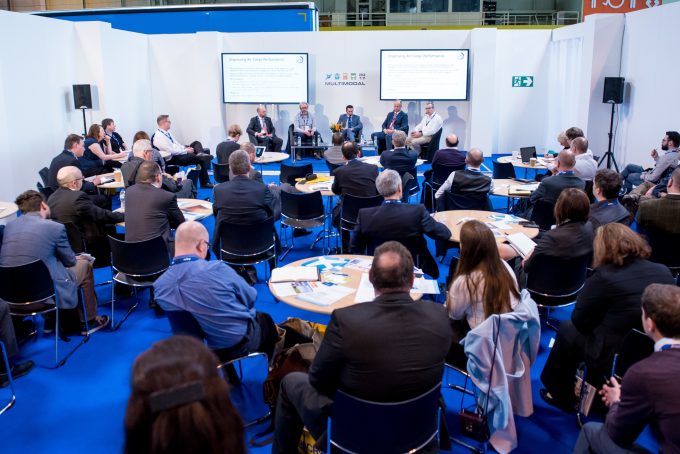 The air cargo industry has to ensure its customers understand and appreciate its value, delegates at Multimodal in Birmingham heard this week.
"We need to be mindful of the competition," said Mark Olney, EMEA manager for Air Canada Cargo. "We have to play up the quality – it's incumbent on us to make people know that.
"We have seen a lot of cargo lost to sea freight, and it doesn't come back. We have to show that air freight's offer is a good value-for-money proposition."
Nick Platts, head of Heathrow Cargo, agreed. "Air cargo is slick and efficient.
"For speed, security and reach – it's got to be air cargo. Rail can't offer all those. By rail, the shipments have to be handled every time you change the gauge. I think ocean freight will be more affected by the increase in rail services."
Jonas van Stekelenburg, head of cargo at Schiphol, added that it was difficult to get high-quality rail services in the Netherlands.
However, one area where modal competition is unlikely to bite is e-commerce.
"This is a sector that will demand air freight," said Mr Olney. "Although whether they are prepared to pay high rates remains to be seen.
"Last year's peak took a lot of us by surprise – we didn't have enough containers. The sheer volume in the fourth quarter was very surprising."
While air cargo needs to prove its value to shippers, it also has to improve its quality for forwarders and shippers.
"Where we let ourselves down is on the ground, that's where we can let the customers down," said Heathrow's Mr Platts, who sees forwarders as his ultimate customers – the ones who choose which hub the freight goes to.
"We need to engage more fully with the airline sheds and look at how quickly and efficiently cargo moves through them. The growth of e-commerce gives us a great opportunity and we need to take advantage of that."
Mr Olney agreed that the product in the air could be similar across carriers.
"So the key is what we do on the ground. That is why we have invested heavily in our own handling facilities in the UK and Frankfurt."
Mr van Stekelenburg said one of the difficulties was not being able to measure, and therefore really prove, improvements in performance– "something we are trying to fix".
He said he saw carriers, forwarders, and handlers all as his customers, and "it is in our DNA to have a collaborative approach".
He said: "The difficulty we have is with those you don't have direct contact with, such as shippers and Customs."
He added that collaboration had "really paid off" in pharma where quality is highly valued.
"Shippers can be all about cost, so the handlers only hear about cost. But we need to ensure that customers value quality properly."
Conan Busby, head of cargo for MAG Airports, said going with a handler to visit customers had helped the airports group build up its perishables trade.
"It always comes back to transparency and collaboration."