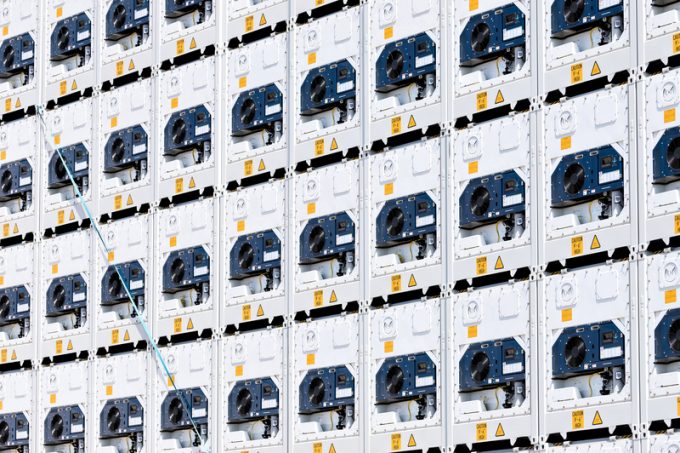 Concerns over a shortage of reefer containers are still riding high, amid fresh warnings that supply is due fall well short of demand towards the end of the year, and into 2020.
The warning came from global head of seafreight reefer logistics at Kuehne + Nagel Frank Ganse, while Thomas Eskesen, founder of Eskesen Advisory, also envisages no improvement next year.
He pointed to the fact that orders for new reefer containers currently stand at about 60,000 – against a need for 140,000.
The problem is not new. Alarms bells sounded more than two years ago as production levels of reefers in 2016 and 2017 fell 50% on previous years.
Sohrab Kazerooni, vice-president of ocean freight at Canadian perishables specialist Flying Fresh Air Freight, believed the problem was largely due to lack of investment on the carrier side, caused by insufficient profitability.
With a few notable exceptions, such as Maersk, Hapag-Lloyd and CMA CGM, most shipping lines have neglected investment in reefer containers for years. Lately more lines have ordered new reefers, but it will take some time for production to catch up with demand.
"Some pundits say it will be 2023 or 2024," Mr Kazerooni said.
Drewry's Reefer Shipping Annual Review & Forecast 2019/20, this month notes production of new equipment has recovered over the past two years, and that growth of 4.5% over the next five years will be slightly ahead of demand, but "will not be sufficient to bring supply back into equilibrium".
Thus some shippers and forwarders have scrambled to find enough boxes, a problem exacerbated by the outbreak of African swine fever in China, which has wiped out a large proportion of the country's pork stock, precipitating a surge in imports to make up the shortfall.
According to Seabury Consulting, China has been the biggest driver of a 7% rise in demand for reefer containers this year. In the first eight months of 2019, China has taken 60,000 teu of a total of 84,000 teu of frozen meat shipped in containers. Pork exporters in Europe and Latin America have registered growth of 26% and 27%, respectively, to China this year. The country also accounts for 25% of the global containerised trade in beef this year.
While demand for reefer capacity has increased, the share of this traffic carried by reefer vessels is on the decline, a trend threatening to further aggravate the shortage of reefer containers.
Drewry notes in its report that the increasing reliance on containers raises the possibility of further capacity constraints.
And trade conflict has also played into this. As US soybean farmers saw their exports to China shrink alarmingly, they have been trying to develop new markets, like Indonesia, and found that container operations offer a good route into markets where volumes at this stage do not justify a reefer vessel.
Concentrating reefer containers at major gateways should help boost utilisation – which is rather low to begin with. According to one report, most reefer containers are currently used for a maximum of three moves in a year.
"In Canada, reefer supply has not been a problem," said Mr Kazerooni. "We've not run into any issues with container availability."
The only bottleneck he has seen is for 20ft reefer containers, adding: "Some lines don't operate 20ft reefers at all."
Some markets require some juggling with the standard 40ft units, though. To serve shippers in locations like Winnipeg or Calgary, Flying Fresh has to dray reefer units from Vancouver.
"The lines don't like to leave empties in Calgary," Mr Kazerooni said.