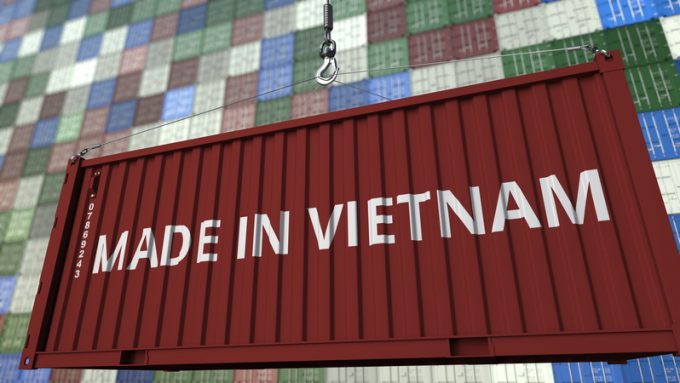 The trade war between the US and China has started to impact the makeup of US containerised imports from Asia, with a significant shift away from China.
According to Alphaliner data, in the first five months of the year, imports from China to the US fell 6.5% on the same period of 2018, to 3.87m teu, while imports from Asia excluding China jumped 14.6%, to 2.25m teu.
Vietnam is the biggest beneficiary of the tit-for-tat trade war, growing its exports to the US by 30.7%, to 564,420 teu, notes the consultant.
It added: "Transpacific carriers have been cashing in on the increased volumes from Vietnam, adding two new direct calls at northern Vietnam's Haiphong (HICT) this year to complement 12 calls at Vietnam's southern port of Cai Mep."
However, there has been some scepticism over whether Vietnam has really been able to ramp up production so fast. Bloomberg reported yesterday that Chinese firms were allegedly producing fake product-origin certificates and making illegal transfers to avoid tariffs, routing US exports through Vietnam.
According to Alphaliner data, US containerised imports grew overall by 2.8% between January and May, to 9.3m teu. After Vietnam, the biggest winners in Asia were Malaysia with a 19.8% gain, Thailand at 18.1%, Taiwan at 11.5%, South Korea at 11.1% and India with 11%.
Other notable above-par increases were recorded from Africa, at 14.3%, the Middle East, at 10.3%, Europe, at 8.1% and Latin America, 6.6%.
Putting this shift of trade into perspective, Alphaliner said that after China, the next 15 largest origins, with a combined volume of 3.6m teu, was still smaller than the 3.87m teu of Chinese exports to the US during the period.
Drewry has also looked at the impact the escalating trade war is having on trade. Referring to the ramping up of rhetoric and the US president's threat to encompass 100% of Chinese imports with trade protectionist duty of 25%, the consultant said Mr Trump's "weaponisation of tariffs is forcing cargo owners to seek cover and re-shape global supply chains to avoid fallout".
It added: "Switching the locations of production is not something done lightly and cargo owners have to weigh a myriad of factors, including local labour costs and skills, infrastructure and proximity to demand, as well as political and legal stability – that all varies in importance depending on the sector."
Drewry warned that cargo owners having identified a new location should be aware that "there can be no guarantees that the new production countries won't find themselves being targeted by future tariffs".
"It is a costly endeavour with no safety assurances," cautioned the consultant.
Drewry added that while it seemed likely that all Chinese imports to the US would ultimately be affected by tariffs, expediting a trade diversion, it would take time for new location sources to ramp up production capacity to meet demand, and in some cases this was "doubtful", due to China's dominance of certain products.
Meanwhile, economists do not expect any further developments in the trade spat between the US and China until the potential meeting by presidents Trump and Xi on the sidelines of the G20 summit in Osaka on 28 and 29 June.