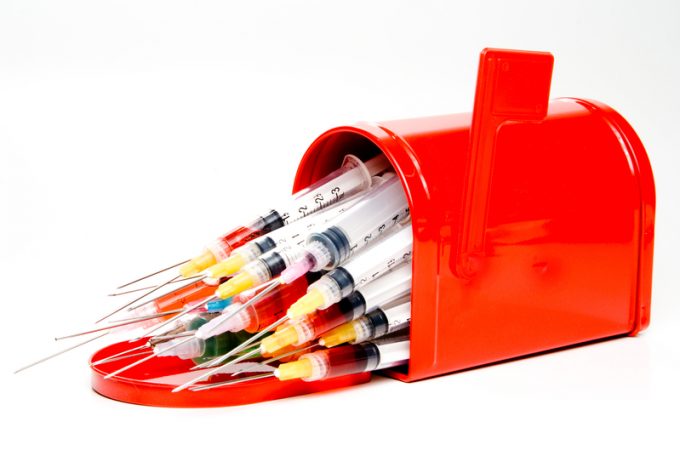 UPS is poised to open new avenues on the final mile in healthcare logistics in North America.
It is preparing a programme to offer vaccinations to patients in their homes and a pilot scheme to use drones to transport medical samples. 
According to a report from Reuters, pharmaceutical giant Merck has teamed up with the integrator to develop a vaccination service, but it is not clear which vaccines would be involved. 
Essentially the scheme looks to leverage the network of some 4,700 UPS stores across the US and clinical trial logistics specialist Marken, which UPS acquired in 2016.
Vaccines would be dispatched from the healthcare complex in the UPS Worldport hub in Louisville to the UPS store nearest the patient, where they will be collected by a nurse subcontracted by Marken, who will take the shipment to the patient's home to administer the vaccination.  
Cathy Morrow Roberson, founder and head analyst of Logistics Trends & Insights, sees the pieces fitting a puzzle that has been in the making for some time.
"Finally UPS is utilising its service capabilities and bundling them into solutions like this," she said. 
For the most part, Marken had been kept separate from the other UPS operations, except for a few joint solutions, particularly in the international airfreight arena, she said. 
The venture with Merck would require tight time management, given the temperature-sensitive nature of vaccines and the fact that UPS stores are not designed for cold chain activities and Ms Roberson doubts the full network of UPS stores will come into play.
"This is not going to be for everyone," she said, pointing out the diversity of health plans in the US. "I think it will be in select locations, where they can make a profit." 
This does not mean that the market for the planned service is a niche. Ms Roberson believes the ageing baby boomer generation has a large pool of people who may prefer receiving treatment at home to going to a clinic. 
The Reuters report quotes UPS vice-president of global healthcare logistics strategy Chris Cassidy, who joined the integrator last year from pharma firm GlaxoSmithKline, in saying that the world is headed for "over-the-threshold" services. 
To gain traction, such projects will require buy-in from health insurers. Complex pharma logistics services tend to command high margins, which would run counter to insurers' desire to keep costs down. On the other hand, home visits by nurses may be cheaper than having doctors administer the vaccinations.  
It is also unclear how pharmacy chains will react. In some ways such schemes threaten to bypass them, but some may try to embrace similar arrangements to strengthen their position vis-a-vis Amazon, which has been pushing aggressively into this market. The online giant bought online pharmacy PillPack for about $1bn last year, and joined forces with Berkshire Hathaway and JPMorgan Chase last year to form a healthcare venture for their US employees. 
In a separate development, UPS is preparing to use drones for healthcare logistics.
In late September it announced it would be collaborating with drone specialist Matternet to deliver medical samples in a pilot project for WakeMed Health & Hospitals, which comprises multiple facilities in metropolitan Raleigh, North Carolina. The project is overseen by the US Federal Aviation Administration. The drones will fly along predetermined flight paths between WakeMed's main hospital and central lab complex and other WakeMed facilities, replacing courier cars in a bid to reduce transit times and reduce costs.