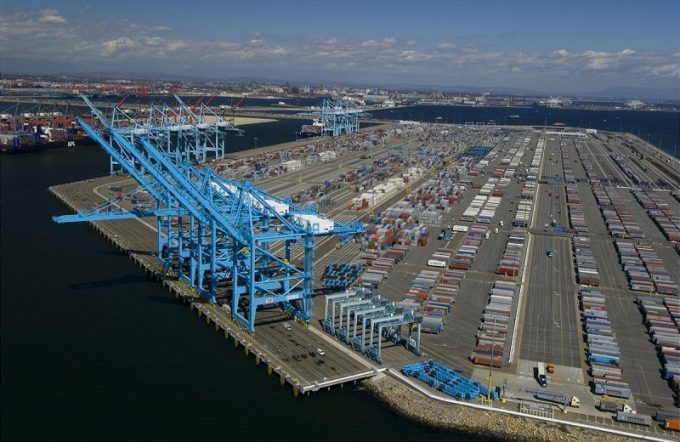 The US west coast ports of Los Angeles and Long Beach recovered well in the second half of 2015, following the labour contract dispute, and appear to have regained the confidence of shippers – but it has come at a cost to carriers of lower freight rates.
Los Angeles finished the year with a throughput of 8.16m teu, 2.15% lower than in 2014, but considering that in January 2015 the port handled 27% less containers than in the same month of the previous year, the end-year result was said by the authority to be "pleasing".
Meanwhile, at neighbouring Long Beach the terminals rebounded even stronger to deliver one of the port's best performances on record, posting a throughput for the 12 months of 7.19m teu – up 5.4% on the previous year.
"We worked diligently over these past 12 months to recover from a very challenging start to the year, resulting in record volume and productivity gains and the strong and steady return of diverted cargo," said Port of Long Beach chief executive Jon Slangerup.
However, according to Drewry the return of cargo from US east coast ports to those on the Pacific has been the root cause of a recent destabilisation of rates. It said the transpacific headhaul route had "never experienced" this degree of rate volatility previously.
It also noted that the west versus east coast rate war was "part of a long game relating to the battle for market share". It said: "It will be a recurring theme in 2016 with the opening of the widened Panama Canal."
The size of vessel able to transit the waterway will increase from around 5,000 teu to approximately 13,000 teu.
Spot rates from Asia to US west coast ports were being quoted as low as $750 per 40ft at the end of last year from around $1,900 at the beginning of 2015, despite vessel load factors consistently achieving levels above 90%.
Annual service contracts are traditionally renewed on 1 May on the transpacific and, with last year's contract rates averaging $1,650 per 40ft, according to Drewry data, carriers are understandably nervous that they will suffer the same fate as container lines plying the Asia-Europe trade and be forced to walk away from contract rate negotiations.
In November, conscious of the approaching contract negotiations, the 15 carrier members of research and discussion forum Transpacific Stabilization Agreement (TSA) recommended a two-tier rate restoration programme. This comprised a $950 per 40 ft "base" rate on 1 December, followed by a $1,200 hike effective 1 January.
The December rate increase "failed to ignite", according to Drewry, but it said carriers had "met with some measure of success" with the 1 January implementation.
Drewry concluded: "Headhaul spot rates should remain firm during the build up to the Chinese New Year, but are likely to retreat in the ensuing slack period as retailers' inventories in the US still remain high."