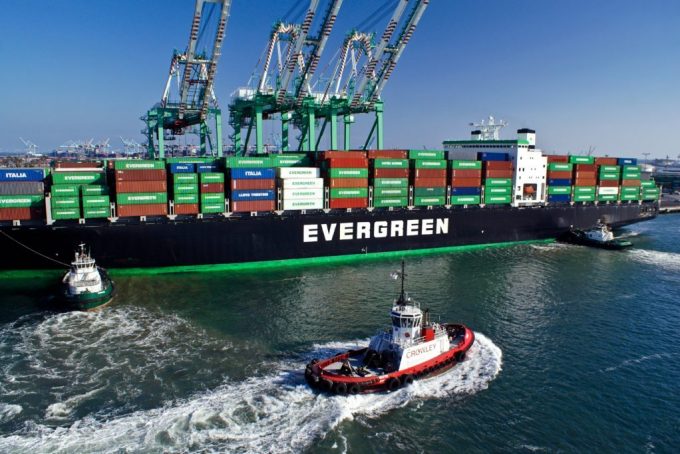 In a symbolic move, the Taiwan ports of Kaohsiung and Taipei have been included in three of six container shipping services embraced by the Silk Road Maritime International Forum.
The inclusion of the services was announced at the 2021 forum last Wednesday.
Significantly, Taiwanese liner operator Evergreen is operating one of the services, the China-Europe-Mediterranean (CEM) service.
The Silk Road Maritime International Forum was launched in December 2018 by Fujian Provincial Communication Transportation Group, China Cosco Shipping Corp and Xiamen Port Group to offer a shipping platform under China's Belt and Road initiative.
The inclusion of Taiwan is significant, as diplomatic relations with China, which has regarded the island as a renegade province since the Chinese civil war in 1949, have often been difficult. Fujian is the nearest Chinese province to Taiwan and local enterprises hope the Belt and Road connection will mean more business opportunities.
The other two services that include calls at Kaohsiung are the FE3 Asia-Europe service, operated by THE Alliance, which includes Hapag-Lloyd, ONE and Taiwan-based Yang Ming, and the SH2 intra-Asia service, operated by Maersk's regional unit, Sealand.
Fujian the core area of the "Maritime Silk Road", the Belt and Road's shipping segment, was not only the main starting point of the ancient maritime Silk Road, but today is still an important province in China for international trade and co-operation. The province is also home to ports forming China's South-east International Shipping Centre.
Today, the Silk Road Maritime International Forum has 80 shipping routes, linking 99 ports in 27 countries to Chinese gateways Shanghai, Tianjin, Ningbo, Qingdao, Guangzhou, Yantian, Xiamen, Fuzhou and Beibu Gulf.
The Silk Road Maritime Alliance has more than 200 members in the shipping, ports, logistics, commerce and finance fields. New members which joined this year include Guangzhou Port Group, China Railway Container Transport, Dalian Maritime University and Singapore-based terminal operator PSA International.
PSA CEO Tan Chong Meng said: "The forum can strengthen international co-operation and maintain a positive response to global developments, such as regional trade partnerships or climate agreements."
MSC CEO Soren Toft, who was present at the forum, said the world's second-largest liner operator had seen rising cargo volumes through the Silk Road Maritime International Forum. Last year, MSC launched two services from Fujian.
Mr Toft said: "MSC's throughput at Fujian's ports is growing strongly, with container volumes increasing by more than 40% in the first half of this year."
Evergreen's CEM route is: Kaohsiung, Qingdao, Shanghai, Ningbo, Taipei, Yantian, Tanjung Pelepas, Suez Canal, Rotterdam, Felixstowe, Hamburg, Rotterdam, Suez Canal, Colombo, Tanjung Pelepas and Kaohsiung.