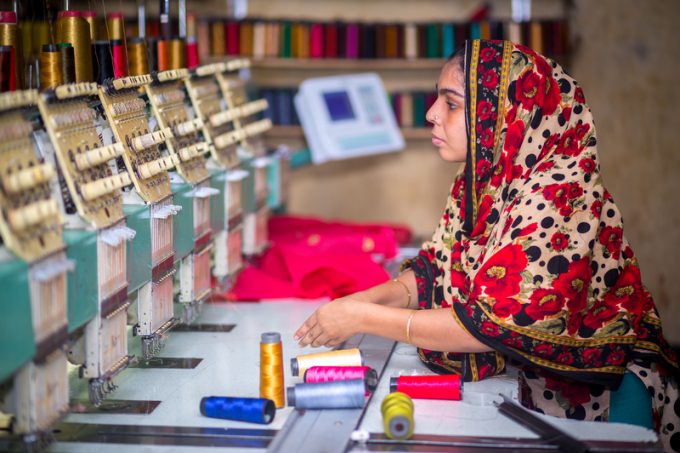 Apparel factories in Bangladesh are still running at half-capacity after orders dried up, and bosses remain pessimistic about the likelihood of new orders any time soon.
Amid the impact of the Covid-19 pandemic, factories which laid-off part of their operations are struggling to make a full comeback, leaving hundreds of workers jobless.
And this week several more factories terminated hundreds of workers, as they are not receiving enough orders from western buyers.
President of the Bangladesh Garment Manufacturers and Exporters Association (BGMEA) Dr Rubana Huq told The Loadstar only 50% of normally expected orders were coming in now. And she is not expecting a return to full capacity soon.
"Not before spring of 2021,"she said on WhatsApp.
Senior vice president of the Bangladesh Knitwear Manufacturers and Exporters Association (BKMEA) Mohammad Hatem said factories had started receiving inquiries from buyers, but "the flow is very poor".
He said: "Some factories are terminating workers as they have no work orders," adding that his own factory has 20 sewing lines, of which  only 11 are operating.
In April and May, many factories announced lay-offs as western buyers cancelled or suspended work orders worth billions of dollars, he said, with many factories stuck with stockpiles of raw materials worth millions.  
Some buyers are using the situation to bargain for a price cut, while others have failed to pay, even after receiving goods, said Mr Hatem. Two weeks ago the BGMEA threatened to blacklist a British company, EWM Group, which had sought large price discounts from Bangladeshi manufacturers and had also not paid for clothes.
The BGMEA said if any more brands came with similar proposals for a discount or to stop payment, they would also be sued.
Meanwhile Chittagong port, the country's prime gateway, is still experiencing acute congestion at its yard, with ships at outer anchorage. The slow delivery of containers during the shutdown period was followed by a two-day port closure due to Cyclone Amphan and last week's Eid-ul-Fitr holidays.
Yesterday, some 22 container vessels were waiting at the outer anchorage, while 11 more were at berths. Some 42,706 teu of containers were lying at the port yard. Its total storage capacity is 49,018 teu.