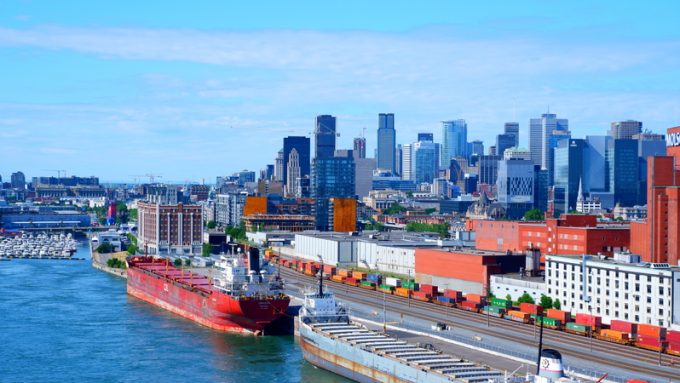 The port of Montreal appears to be on course for another flare-up in the confrontation between management and labour.
The past few days have seen an escalation in the conflict, increasing shipper fears of another crippling slowdown in operations.
Tension was already building when the seven-month truce, after last summer's strike, ended in late March, with both sides accusing each other of negotiating in bad faith.
And in a vote a week before the end of the armistice, dockworkers voted overwhelmingly to reject management's offer.
In recent days, the situation has deteriorated rapidly. The Maritime Employers Association announced it was suspending the guaranteed basic income for workers, citing a drop in throughput caused by "uncertainty and anxiety triggered by the labour relations situation".
The Canadian Union of Public Employees responded with a decision to stop all overtime on weekdays and all weekend work. In addition, workers would not participate in any training.
Martin Imbleau, the port authority's new president and CEO said: "The port is being hit by a climate of uncertainty incompatible with a shipping industry that must choose to divert its vessels to provide a minimum of reliability despite the added delays and costs. The recent deterioration in labour relations (…) is seriously impacting our ability to fulfill a mission that has been drastically curtailed.
"And the potential for escalation will only further curtail it. After an 11% decline in volumes in March, the port now has to deal with decisions that will drop its port capacity by close to 30%."
The union responded, saying "we are not shutting down the port", and added that deliveries of Covid-related cargo would not be affected.
For the port authority, there may also be concerns about its expansion plans. It wants to build a new container terminal, for which the provincial government pledged a C$55m (US$43.82m) infusion in January. There is speculation that a decline in traffic could undermine support for the project.
It would appear that, in some quarters, an escalation of the conflict would not be unwelcome, in hopes that this would force the federal government to step in and mandate a solution that would end the long-lasting feud.
Calls for government intervention came during the strike last summer, but Ottawa resisted involvement beyond mediation in the negotiations between the two sides.
And industry organisations have weighed in.
Dennis Darby, president and CEO of the Canadian Manufacturers & Exporters (CME) group, said: "We must prevent a repeat of last summer. Supply chains, businesses, our economic recovery and the livelihoods of hardworking Canadians cannot sustain further shutdowns."
Agricultural organisation Pulse Canada urged the federal labour minister to arbitrate a final agreement, saying that its members were facing additional costs of up to C$1,600 per container to re-route shipments.
According to the CME, diverting cargo through Halifax costs its members "millions in additional costs every week". And the likelihood of increased disruption is causing more shippers to explore alternative options.
"Re-routing via east coast ports at additional cost is an option. Today, many of them that cannot afford any possible delays due to Montreal port labour issues have opted to take up our bypass solutions already," reported Karl-Heinz Legler, general manager of Rutherford Global Logistics.
"People are getting nervous," added Sandra Faraj, vice-president of AGO Transportation.
For some shippers, this would seem to be an ironic twist. She noted that many were using Montreal as a transit point to US destinations because they could not get bookings to the US due to equipment shortage and delays.
The port of Montreal is blaming the uncertainty and tension around the labour situation for an 11% drop in cargo in March. The downturn is in sharp contrast to many North American ports that are struggling with record import volumes.