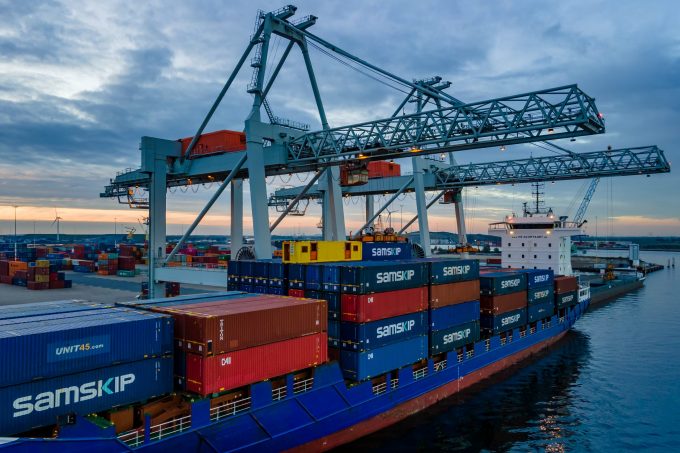 Dutch multimodal transport operator Samskip is set to launch a box service between the Netherlands and Ireland, giving Irish exporters another option to bypass the troubled UK landbridge.
The new weekly box service between Amsterdam and Dublin launches on 25 January, which "will mean Irish imports can avoid post-Brexit hassles applying to goods received via UK-based distributors, while exports will benefit from greater reach into EU markets in the northern Netherlands, Germany and beyond".
The fixed-day service will depart the TMA Terminal on Monday evenings for arrival in Dublin on Wednesday and a weekend return to Amsterdam, and also hopes to compete with UK distributors who regroup from EU trailers coming into the UK.
Thijs Goumans, head of Ireland trade at Samskip, said the new service came as importers and exporters in Ireland-mainland Europe trades continued to weigh up options, as the consequences of Brexit for supply chain management became clear.
"The Ireland-north continent freight market is in a dynamic phase, and fixed day container services to/from Amsterdam provide certainty on which supply chain managers can base business growth," he said.
The company added that "subject to initial moves, Samskip would consider calls to connect other ports in Ireland to Amsterdam direct".
Richard Archer, regional director at Samskip Multimodal, explained: "Shortsea container services can once more prove themselves more than a match for ro-ro, particularly for products previously shipped to distributors in the UK then redistributed across the Irish Sea.
"Amsterdam is a high-performance port connecting straight into the hinterland area, and the Samskip Ireland team is delighted by this new commitment to pan-European transport."
Michael van Toledo, general manager of TMA Amsterdam, added: "The service could have been custom-made for our ambitions to grow Amsterdam as a hub for shortsea container business. It targets the greater appetite for direct north continent services to Ireland post-Brexit, with TMA's cross-docking winning over trailer operators in markets further south."
There have been an increasing number of moves by shortsea container lines to eat into the market between continental Europe and the UK traditionally dominated by ro-ro operators.
Last week, CMA CGM subsidiary Containerships announced a new box service between Dunkirk and Bristol and Liverpool, as an alternative to  the ro-ro facilities at Dunkirk and nearby Calais.
"The new gateway makes this an ideal route for getting goods into the UK post-Brexit, avoiding the congestion at crossings like Calais," the company said.
The new DUNK service will begin on 29 January.