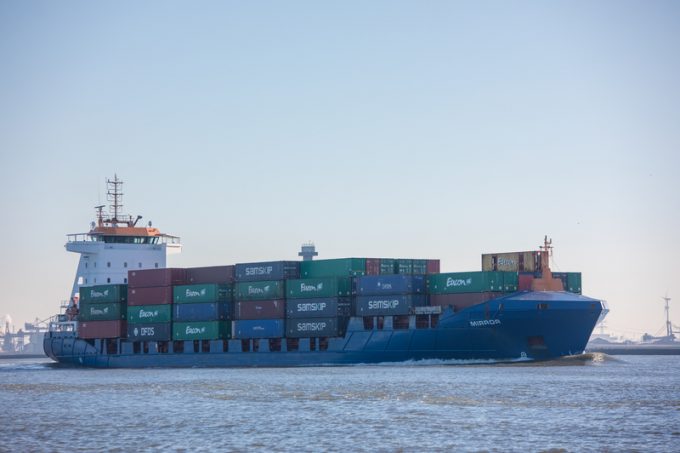 Dutch-based short-sea and multimodal container logistics operator Samskip is pressing on with its contingency plans to assist customers to secure their supply chains in the event of a no-deal Brexit.
Talking to The Loadstar at Transport Logistic in Munich, interim CEO and COO Diederick Blom said that Samskip had secured new business from blue chip shippers that need to ensure there is no break in their supply chains if the UK exits the European Union without a trade deal.
"We are no different to anybody else," said Mr Blom, "we don't have a clue what is going to happen regarding Brexit, but all we can do is prepare for the worst case scenario of a hard Brexit on 31 October, as we have done on the two previous possible dates in March and April.

"Our door-to-door clients appreciate our efforts to prepare for a hard Brexit," said Mr Blom, "we have issued guidelines for our services to the UK via Dutch ports which includes the extra information for bookings, customs declarations and veterinary inspections etc that will be necessary in the event of the UK leaving the EU without a deal."
As part of its Brexit planning Samskip has upgraded its weekly link between Hull and the Benelux ports to 11 sailings, adding to its three calls per week into Tilbury and the weekly call at Grangemouth.
"Our services have attracted new clients that would normally route all of their business via the ferry ports but want an insurance policy should the worst happen," explained Mr Blom.
Indeed, a shipper that The Loadstar spoke to at the event said that there was "bound to be some disruption" in the supply chain if the UK crashes out of its membership of the EU.
"We expect considerable disruption at the ferry terminals, at least in the early days, in the event of a no deal Brexit," she said.
"Trucking queues as goods are cleared will just make the already acute shortage of drivers in Europe much worse," she warned.
In respect of the UK government's decision to award circa $100m in non-tendered contracts to DFDS, Brittany Ferries and the oft-dubbed 'ferry company without any ships' Seaborne Freight to guarantee additional space on ferries in the event of a no deal Brexit, Mr Blom declined to comment but he did admit that Samskip had been contacted by the Department of Trade to ask if it had "any spare capacity".
The government announced cancelled the contracts with DFDS and Brittany Ferries in May, after earlier terminating the contract with Seaborne, and reportedly paying over £50m to the ferry operators for the default.
In order to cope with the additional volume on its container services Samskip has announced a 'volume' surcharge of €243 per load which will be applied to customers who exceed their average weekly volumes shipped with the line in 2018.
Mr Blom said that most of Samskip's door-to-door customers had accepted the surcharge as "fair".
In regard to the IMO 2020 low-sulphur regulations Mr Blom confirmed that all of its vessels were preparing to run on 0.5% LSFO in the sectors where they are currently allowed to consume 3.5% HFO.
"We looked at scrubbers, but it just didn't make economic sense in terms of an early return on the $3-$5m investment per unit, given that many of our ships have to burn the 0.1% max sulphur required in the SECA (sulphur emission control area) regions already," he said, "Plus, we can't be certain how long the premium for LSFO will remain after 1 January as the market adapts."
"There will be additional costs coming out of IMO 2020 which shippers will have to pay," he concluded.