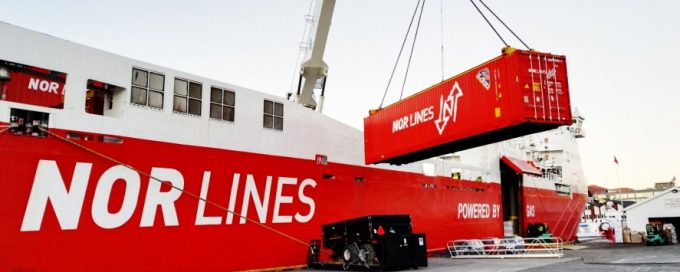 Samskip, Europe's largest multimodal and shortsea container operator, is to acquire Nor Lines from DSD Group.
The deal will include its Norwegian terminal activities, warehousing and haulage, and five of its seven multi-purpose vessels will be transferred under a time charter.
The deal follows the attempt by rival Eimskip to buy Nor Lines, thwarted in April by the Norwegian Competition Authority, saying it would have "significantly impeded" reefer vessel competition in the frozen fish market from Norway to North Europe. It will now turn its attention to Samskip's acquisition bid.
Samskip has grown its presence in Norway in recent years, and transports some 90,000 teu on the route. The operator said the acquisition would boost its presence there.
Its operations, generating annual turnover of €100m, would continue under the Nor Lines brand.
"The Nor Lines takeover represents a major opportunity for Samskip," said Ásbjörn Gíslason, chief executive officer, Samskip Logistics.
"It is a natural but significant extension of our shipping and logistics activities in Norway, which will further broaden our customer offerings.
"Nor Lines' financial performance has been disappointing in recent years, but we are confident that by combining our respective strengths and refocusing the business we will create synergies, improve efficiency and provide customers with enhanced services."
DSD Group, a private Norwegian shipping company, operates 13 vessels. CEO Ingvald Løyning said: "We are pleased to complete our divestment of Nor Lines and entrust the business to Samskip, in a strategic solution for a specialised business that needs to be part of a larger structure to develop and thrive.
"We believe that Samskip will be a good home for Nor Lines, and a good solution for our employees and customers."
Samskip also owns the frigoCare cold store and terminal in Aalesund and a 50% share in Silver Sea, which has 14 reefer vessels. Its turnover was €633m last year.
In other acquisition news, Bremen-based Harren & Partner is to buy SAL Heavy Lift from K Line. The deal will bring Harren, which also owns Combi Lift, 26 heavylift vessels.
'K' Line bought 50% of SAL in 2007, and acquired the remainder in 2011. It said: "SAL has long struggled after financial crisis in 2008 and profitability has been heavily affected by low-prices in energy markets."
"I am very proud and pleased that we have reached agreement with K Line," said Martin Harren, managing director of Harren & Partner. "We believe this acquisition will ensure that both SAL and Harren & Partner are very well-positioned for the future.
"Becoming the new dominant player in the super-heavylift market will add strength to SAL and bring with it some much needed pricing discipline."