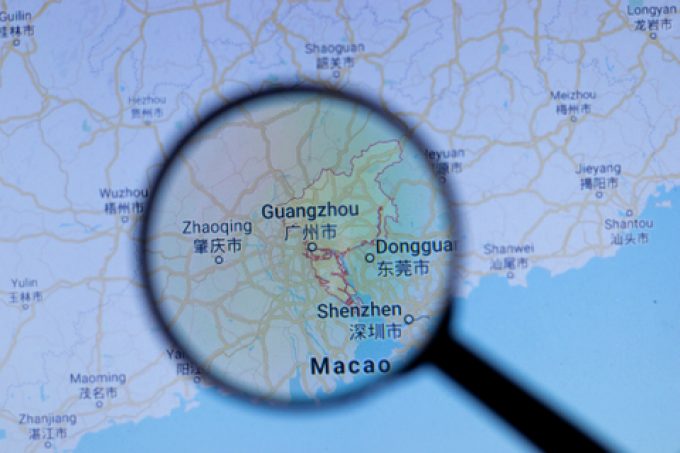 The port of Nansha at Guangzhou is bucking the downturn trend among container terminals this year, and looks to emerge as the big winner from the Pearl River Delta's evolution into the Greater Bay Area.
For example, while other Chinese terminals were suffering in the coronavirus shutdown, Nansha clocked up a 30% increase in Q1 exports to Europe.
"There's a transformation taking place in South China, and Nansha is still gaining market share," said Johannes Nanninga, Port of Nansha's Europe CEO. "There's almost no trade which isn't growing."
Part of Guangzhou Port Group, Nansha lies on the west bank of the Pearl River Delta (PRD), its three terminals handling 75% of Guangzhou's 21.9m teu in 2019, when it surpassed Hong Kong to become the world's fifth-busiest box port.
The big uptick in Q1 European volumes was thanks to an additional 2M sailing, and new calls have been won on other major tradelanes, too. For example, Nansha attracted its first direct US east coast service, also from 2M, last September.
"The 2M and Ocean alliances are very active at Nansha," Mr Nanninga said. "We don't yet have a direct call from THE Alliance, but do work with its members on non-alliance calls."
He said the port's intra-Asia volumes had also grown, "tremendously", with 20 new services in 2018 and another 10 last year. Calls connecting South-east Asia, Taiwan and Korea have been particularly prominent.
However, international volumes have surged from a relatively low base by Chinese standards, with Nansha having only switched focus from purely domestic traffic in 2009. In fact, even by 2018, around 60% of the port's volumes were via Chinese domestic traffic.
The transition to international cargo coincided with the transformation of the PRD into a hi-tech manufacturing hub and the economic integration of Guangdong, Hong Kong and Macau into the Greater Bay Area.
"Shenzhen is moving into financial services and hi-tech, so the space for new warehousing has become too expensive." explained Mr Nanninga. "What you see in China, with its 'go west' strategy of shifting export production capacity to lower cost areas, is also reflected on a smaller scale within the PRD itself, because the western hinterland of Nansha is still very much a growth market, in terms of production."
This has allowed Nansha to seize the opportunity to compete with the PRD's dominant container gateways of Shenzhen, Yantian and Hong Kong for international cargo.
Fortunately, for Hong Kong in particular, Mr Nanninga said both Shenzhen and Hong Kong remained more suitable for international transhipment cargo, due to cabotage rules. Given Hong Kong's precarious political situation, however, whether these rules stay in place long-term remains to be seen. Furthermore, since a large portion of the city's transhipment cargo is river-to-ocean transhipment, originating from the western PRD, Nansha's rise will no doubt be of continuing concern in the boardrooms of Kwai Tsing's terminal operators.
The completion of Nansha's on-dock rail connection in the second quarter of 2021 could also be a "game changer", believes Mr Nanninga. "It really opens up the the western economic hubs, especially Sichuan, Chengdu and Chongqing.
"Traditionally, exports would go via the Yangtze river or by rail to Ningbo or Shanghai, but – especially for the southern trades – Nansha could be a very good alternative, moving via rail directly onto the terminal and cutting out a couple of days' steaming."
Meanwhile, with Guangzhou having been historically dubbed China's "window to the world", even now it's providing a snapshot into Beijing's plans to transform the country's economy to greater levels of domestic consumption, shift from low-cost manufacturing and improve the environment.
Importing waste products like plastic and paper have been slowly phased out, for example, and Mr Nanninga noted that these trends were paving the way for greater volumes of imported consumer goods to pick up the slack. And Nansha is aiming to tap into refrigerated cargo flows from Europe, Africa and Latin America by building a 150,000sq metre cold storage facility, the largest in South China.
"Traditionally, temperature-controlled business was always routed via Hong Kong," added Mr Nanninga.