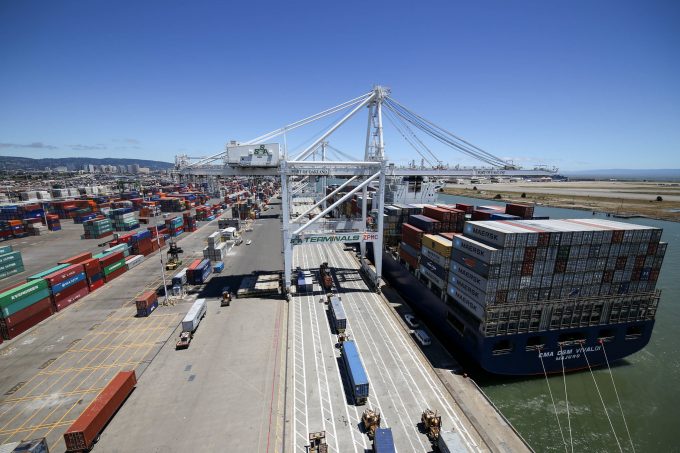 Tension on the US west coast, between unions and employers, continues to rise with the latest declaration from the Pacific Maritime Association (PMA) accusing dock workers of operational disruptions.
Last week, the employer body accused the International Longshore Workers Union (ILWU) Local 13 of taking "concerted action" to withhold labour, resulting in stories suggesting this had closed Los Angeles and Long Beach ports.
The ILWU said it had held a monthly meeting on 7 April, and that staff were celebrating Good Friday.
But yesterday the PMA said: "This week, the union has unilaterally delayed the standard dispatch process, which is jointly administered by PMA and the ILWU, and refused to allow PMA's participation in the labour dispatch process. These actions have slowed the start of operations throughout the Southern California port complex."
Additionally, the PMA accused the union, without being specific, of causing vital cargo handling equipment to be taken out of operation in several terminals and added: "Together, these illegal work actions have disrupted activities at some of the largest and most active terminals in the United States."
It also claimed the disruptions increased the diversion of freight from the west coast to Atlantic terminals in the east. It said: "Cargo diversion places quality jobs at risk far beyond the docks, including truck drivers, warehouse workers, and thousands of others whose livelihoods depend on ongoing operations at the port."
However, this view was not, apparently, shared by some port users. Agriculture Transportation Coalition executive director Peter Friedmann  said: "Currently, too many west coast terminals are operating on reduced schedules, some are open only four days a week. Terminals are closing because they lack sufficient volume of import containers to justify hiring the longshore labour to keep them open."
Moreover, Los Angeles port executive director Gene Seroka told the recent TPM conference in Long Beach that cargo moving to the east coast had been going on for 20 years.
A view that was endorsed last week by consultants Blue Alpha Capital when its founder, John McCown told The Loadstar that the shift to the east was not only logical, but likely to continue given that a majority of the US population are in locations that are closer to the east coast facilities.
Meanwhile, one of the few reports from a docker's point of view was published on the World Socialist Web Site (WSWS) who talked to a casual docker named Mack.
Mack, who works at Oakland, said that the aim is to become a registered docker, fully registered at 'A level' or with the more limited 'B level' registration, which can take between 15 and 30 years, depending on the port you are employed at.
Casual dockers earn $31-$33/hour, or $50/hr at weekends, but in periods of low volumes, such as currently, there can be up to three weeks between shifts for the casuals. A far cry from the $195,000 a year often cited by the PMA.
Mack says on the website: "I don't pay union dues because I'm not part of the union. And that's the issue there. They want you to do the extra work, but you're not part of the union. You don't have any union benefits as a casual."