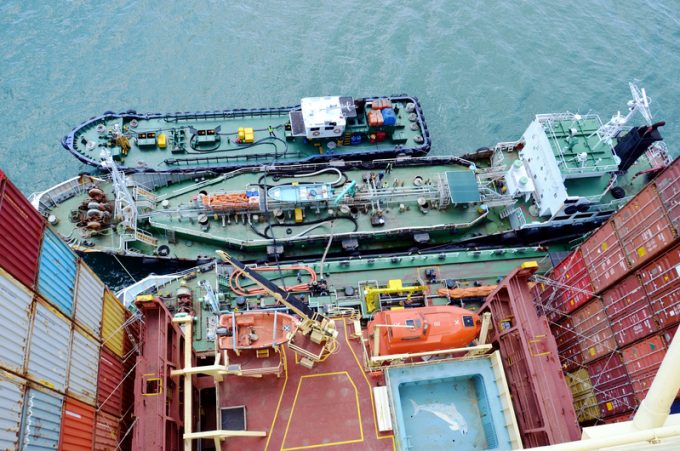 The easing of lockdowns, especially across much of Europe, has helped demand for container freight gradually get back on its feet to take the first tentative steps toward recovery.
After a few months in which demand tumbled around the world, the re-opening of some shops, with more expected in the coming weeks, has resulted in a sudden jump in demand, especially as there are large numbers of vessels out of the market following the void sailing measures by carriers.
However, there are some concerns emerging on the Asia-Europe tradelane over a gap starting to grow in prices offered for container freight.
Some carriers have reduced rates in an attempt to boost cargo numbers, and this has created a dilemma. The lower rates have attracted more cargo, which has left some vessels at over 100% capacity with some cargo rolled. This has put already fragile supply chains under further pressure.
"If we can't get our goods in time, our shelves will be empty. We have had some issues so far with all the void sailings, meaning that our previously comfortable margins for restocking are now being stretched paper-thin," one shipper said.
On top of this, looking beyond the short-term boost from easing of lockdown restrictions, are the tremors of an economic slump that all but the most bullish analysts are bracing for.
This could have a significant impact on container freight should consumer demand change.
North American Market Focus
With demand on transpacific lanes still in the doldrums, rates have been struggling to hold firm and there have been some falls over the month, as the easing of lockdowns continues at a slow pace.
Despite the fact that there still have yet to be mass shutdowns at ports, the delays in container arrivals and the smaller volumes reaching ports are causing issues for back-haul traffic.
Despite this, ocean freight rates made some upward moves following some general rate increases, with North Asia-west coast North America rising $175 between 27 April and 27 May to $1,500 per 40ft. But waning cargo demand to the east coast took its toll on the market, as these rates fell $75 to $2,550 per 40ft.
North American Platts Bunker Charge
A rise in the global oil complex from the lows earlier in the year has resulted in significant rises in the cost of bunker fuel and the bunker aspect of container freight during May, and with a bullish market structure in place heading into June, some analysts are expecting more of the same.
Prices having plummeted through March and April, Platts Bunker Charges on transpacific lanes rose in May, with North Asia-east coast North America at $324.63 per 40ft on 26 May, from $236.73 per 40ft on 27 April, a rise of 37.1% and back to where they were in the last week of March.
On North Asia-west coast North America, prices also rose, by 38.5% month on month, to $192.54 per 40ft ,on 26 May.
UK and North Europe Market Focus
Unlike the transpacific, in the Asia-Europe westbound trades there has been some breakdown in carrier discipline, with a "two-tier market starting to emerge", a freight forwarder source said.
With some carriers charging much less than others, there are concerns this will cause a bidding war, which would erode rates that carriers have kept supported through the year.
"Our customers expect us to lower our rates to compete. This is what we have mercifully avoided up until this point," one carrier source said.
The lifting of lockdowns in Europe, however, has boosted expectations of a surge in demand, with some carriers heard to be looking closely at reintroducing some vessels sailings that are currently cancelled.
North Asia-Northern Europe gained $100 over the course of the month to $1,300 per 40ft, while North Asia-UK rose to $1,325 per 40ft from $1,225 per 40ft. However, quotes from carriers ranged from $1,200 per 40ft to $1,650 per 40ft on 27 May.
North Asia-Mediterranean rose $75 on the month to $1,300 per 40ft.
North Continent Platts Bunker Charge
Like the transpacific tradelanes, Platts Bunker Charge rates on head-haul routes from North Asia to Europe rebounded in May, in line with higher bunker fuel prices at key ports around the world.
Platts Bunker Charge North Asia-North Continent rose to 51.5% to $174.67 per 40ft between 27 April and 26 May. The backhaul North Continent to North Asia route also rose over the same period, by 51.4%.
This post is a monthly guest contribution by George Griffiths, editor, global container freight market, at S&P Platts