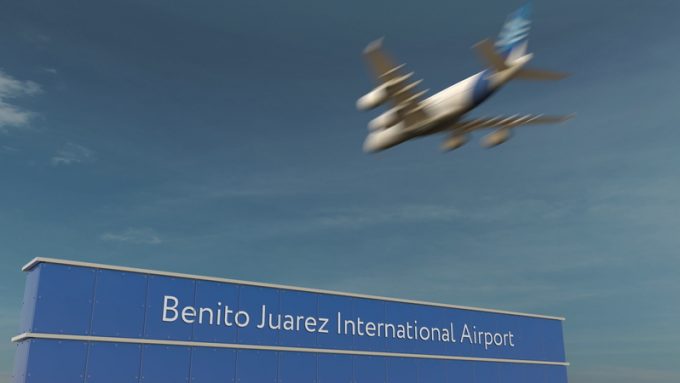 Hopes of some relief at Latin America's most congested airport suffered a major setback after a referendum rejected the new airport for Mexico City.
Already one-third completed, the ambitious but controversial new airport at Texcoco now looks set to be scrapped.
Incoming president Lopez Obrador, who takes office on 1 December, had heavily criticised the project during the election campaign, but subsequently adopted a more neutral stance, stating it would be up to the Mexican people to decide the project's fate.
The referendum, conducted on 27-29 October, found almost 70% of voters opposed to completing the new airport.
However, the vote itself has been criticised because it was organised and funded by the ruling party and polled only 1.07m voters.
Mr Lopez Obrador's declaration that he would honour the outcome of the referendum spells doom for the $15bn Texcoco project, although the consortium that manages the construction said it would continue work until it received official notice to stop.
While there is no doubt that Benito Juarez Airport, the capital's existing gateway, is hopelessly overburdened, Texcoco has been controversial. It is designed to accommodate 120m passengers, which would make it the largest airport in the Americas. Last year 47m passengers passed through Benito Juarez. And the $15bn price tag is some 70% higher than originally budgeted.
Mr Lopez Obrador, who won a landslide victory, had campaigned on an anti-corruption platform that branded the Texcoco project an emblem of graft. And environmental issues have added to the criticism.
The incoming administration has proposed an alternative of two new runways to be built at the air force base at Santa Lucia, 47km north of Benito Juarez, and to connect the two airports.
Additionally, it wants to upgrade Benito Juarez as well as Toluca Airport and connect the latter by train to the capital. These projects could be completed in three years and save about $5bn, it is claimed.
However, aviation and business interest groups have lambasted the move to scrap the new airport. Mexican carriers Aeromexico, Volaris and Interjet have argued for construction to continue. And Airlines for America, the US carrier organisation, wrote to Mr Lopez Obrador urging him to complete construction at Texcoco and cited studies that Mexico could lose 20m potential new passengers a year by 2035 without the new airport.
The International Air Transport Association called the decision "bad news for Mexico and aviation", stressing that a capacity upgrade has been desperately needed for some time.
"This is a bad decision. [Air cargo in] Mexico has been growing steadily, especially in the automotive sector. Because of a lack of infrastructure some operators will go to alternative airports," said Robert Villamizar, head of air product capacity, intra-Americas at DHL Global Forwarding.
JPMorgan cut its projections for Mexico's 2019 GDP growth from 2.3% to 1.9% in the wake of the referendum.
According to Grupo Aeroportuario de Mexico City, the state-owned company that has managed the Texcoco project, aborting it would leave the government out of pocket to the tune of $1.7bn-$2.2bn. And, according to another source, the cancellation leaves $6bn in bonds up in the air.
Beyond the financial hit, criticism has focused on the loss of badly needed capacity upgrades. IATA director-general Alexandre de Juniac called the cancellation "a disaster" that would set back Mexican aviation by 5-10 years.
"Developing the airport at Santa Lucia is going to delay the whole infrastructure development," said Mr Villamizar added.
Benito Juarez has been operating beyond capacity for years. It was declared saturated by the civil aviation authority in 2013, although the ruling was withdrawn that same year. Because of slot constraints freighters can only operate during the night, while trucks larger than 50ft are not admitted to the airport between noon and 8pm. Delays are chronic.
The congestion problems have been a boon for airfreight and truck operators serving other airports in Mexico, especially the auto industry located north of the capital.
"In anticipation of the issues at Mexico City, we have systematically opened our truckload service to the outlying service area of the capital. We opened Siloa, Puebla, Aguascalientes and San Luis Potosi this year," said Mike Gamel, chairman and vice-president of sales & marketing of Mexpress, which operates bonded a road feeder service across the border linking Los Angeles, Houston and Dallas/Ft Worth with a slew of Mexican airports.
He said this had been well received, as Mexpress achieves shorter transit times, avoiding lengthy clearance times at the border, and because it can provide local delivery.
Despite the congestion it is still possible to organise cargo charters through Benito Juarez. Over the past couple of months, DHL Global Forwarding ran five charters from the airport to Sao Paulo as well as several charters in the opposite direction.
"It takes a lot of co-ordination with slots and times," said Mr Villamizar.
But how future air cargo supply chains are designed remains in the air, although operators appear to be bracing themselves for a split picture.
"I believe passenger and all-cargo freight will be distributed between MEX , Santa Lucia (to be expanded by 2022) and Toluca airports, increasing capacity by 50%," said Carlos Duron, president of Mexpress.