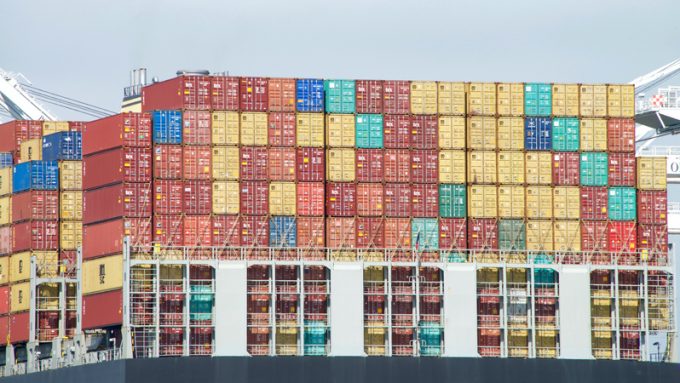 Next week is set to see large increases in spot container shipping freight rates on the transpacific trades, according to figures from today's Shanghai Containerised Freight Index (SCFI)
The index, which collates freight rates quoted for the week ahead from a group of carriers and customers, indicates that, as the peak shipping season gets under way, the trade between Asia and the US west coast will see rates rise 10.5%, to $2,074 per feu.
Meanwhile, the on the Asia-US east coast trade, spot rates rose 8.9% to reach $3,099 per feu, and analysts predict that carriers are set to enjoy a better peak season than in 2017 – at this point last year, spot rates had begun to decline.
Earlier this week, Daniel Richards, senior analyst at Maritime Strategies International (MSI), said: "Week 30 of 2017 proved the peak for mainlane spot freight rates, which then declined over peak season.
"MSI expects 2018 will avoid this trend, and that transpac rates over peak season will be around 10-15% above 2017 levels, and Asia-Europe around 5%."
However, it added: "Improving freight rates, while a positive development, remain vulnerable to rising costs."
The caveat is of course the looming threat of a China-US trade war, with another round of tariffs reportedly being prepared by the Trump administration.
"Early indications from US ports and bills of lading processing suggest that June import volumes surged, perhaps suggesting 'panic-buying' as the trade war scenario worsened," said Mr Richards.
"While the noise around the imposition of trade tariffs focuses on the mainlane trades, their potential impact will be felt more widely. It now seems unavoidable that the US and China will levy tariffs on the large part, and quite possibly all, of their bilateral trade flows.
"The largest effects will be felt on the eastbound transpacific, but the key area to watch is how far tariffs on US imports risk disrupting complex cross-border supply-chains which feed into finished products, and which are especially key to the high density of regional and feeder services in the intra-Asia market," Mr Richards added.
On the Asia-Europe trade, this week's SCFI suggests that spot rates have largely stabilised, with the Shanghai-North Europe component adding 1% to end the week at $935 per teu, while the Shanghai-Mediterranean leg declined 1.3% to $881 per teu.
Asia-Europe carriers will hope to edge up those rates over the month as demand improves. CMA CGM today announced an FAK rate from Asia to all North European ports of $1,050 per teu, applicable from 16 August.
And yesterday, Hapag-Lloyd announced an FAK rate of $1,200 per teu from Asia to both North Europe and the West Mediterranean, to be applied on 15 August.