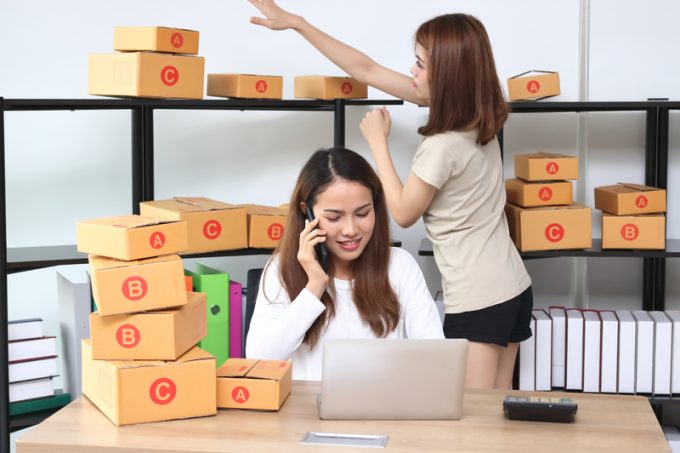 Micro-shippers have become a force to be reckoned with.
A recent study by Freightos, based on data from the US Census Bureau (USCB) and the European Commission, notes that the rise of e-commerce has turned a legion of small and mid-sized businesses (SMBs) into a major force in global trade.
In 2019, SMBs based in Europe and the US shipped over $550bn-worth of goods, Freightos' research found – and SMBs are mushrooming.
The third quarter of last year witnessed a surge of 83% in the number of new small businesses registered in the US alone.
In 2017 independent businesses accounted for 23% of US retail, and last year's Amazon's Prime Day shopping orgy clocked up $3.5bn of sales from third-party sellers on the platform, an increase of nearly 60%, which constituted a faster rise than Amazon's own business, Freightos observed.
Primarily, SMB merchants focused on domestic markets for sales, but they are now active on the import side. Freightos pointed to USCB data showing that in 2016, 96% of US importers were SMBs.
Arguably, most have had their hands full meeting domestic demand, but there is strong interest in international markets, reported John Haber, CEO of parcel logistics consultant Spend Management Experts.
However, there are significant challenges.
"Cross-border logistics may still be the biggest pain point for small, low-volume shippers," said Freightos. "New SMBs need international freight solutions, and in such a low volume per shipper and fragmented segment, they can only be acquired at scale and profitably by low-touch, digital solutions," the study said.
Cathy Morrow-Roberson, founder and head analyst of Logistics Trends & Insights, agreed that most SMB firms found international shipping difficult, as logistics is not a core competence for them.
"Their first thought usually is to use FedEx, UPS or the postal service to take care of this," she said.
FedEx and UPS have been targeting this segment and held webinars on international shipping. Their pricing and issues with capacity limits are prompting shippers to scout around for alternative solutions, though.
Freightos sees a promising opportunity for tech companies or logistics firms that can offer digitised solutions to this clientele to step into the international market.
And SMB shippers looking for providers will find no shortage of options.
"A crop of digital-first start-ups (as well as the major ocean carriers) are already rushing to fill that low-touch freight gap. And recent advancements have made it easier than ever for forwarders to launch their own digital sales portals. Digital sales capabilities can level the playing field for access to SMBs and let forwarders compete on customer service," Freightos argued.
It also notes that investment in logistics technology has exploded since 2014, with the number of funding rounds in 2019 up 17-fold from then, while start-ups raised over $6bn in 2019, compared with $375m in 2014. E-commerce fulfilment provider Shipmonk raised $290m, while on-demand warehousing developer Flexe closed a $70m round of funding.
Spend Management Experts spends a fair amount of time evaluating different providers
"There's a lot to sort through. What are the good solutions for their needs?" said Mr Haber. "The market is fragmented. There are lots of solutions out there. There are some big ones, but not a dominant player."
The proliferation of new providers leaves SMB shippers scratching their heads and Mr Haber urges them to get a clear picture of their needs and what problems they are trying to solve before taking the plunge.
"Often the front-end diligence is not what it should be," he said.