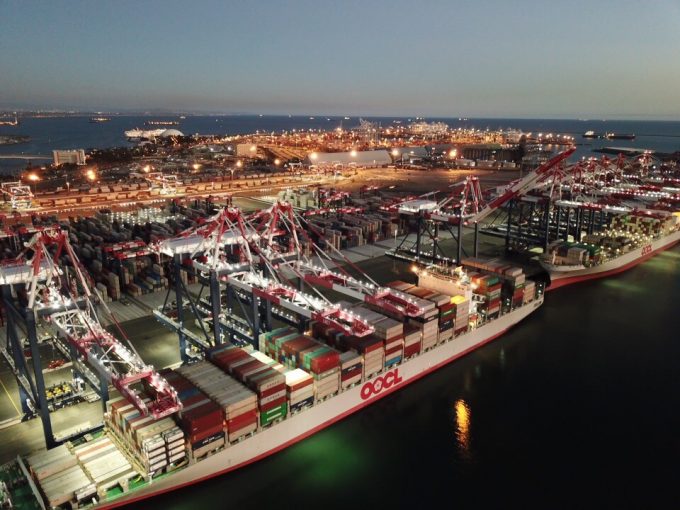 Cosco Shipping subsidiary Orient Overseas (International) Ltd (OOIL) reported a net profit of $195m for 2019, after excluding the one-off $1.15bn profit from the sale of its Long Beach Container Terminal.
This compares with a net profit of $108m earned the year before, and maintains its reputation as one of the "best in class" ocean transport groups.
Group revenue increased by 4.7% year on year to $6.88bn.
However, OOIL said the outlook "has become more pessimistic", as the coronavirus spreads around the world impacting consumer demand.
OOIL's container arm, OOCL, saw carryings across its four regions increase 3.8%, to 6.95m teu, while revenue was ahead by 5.2% to $6.28bn.
The container line's biggest region by volume, intra-Asia/Australasia, accounted for 44% of its liftings and remained its star performer, with a revenue uplift of 6.1%, to $1.94bn.
"This solid performance was achieved in a context of an uncertain global economic and trade environment," OOIL said.
"For many years, the OOIL balance sheet has been one of the most robust in the container shipping industry. This strength has been boosted in 2019 by year-on-year improvements in operating cash flow, which increased from $313.7m in 2018 to $452.3m in 2019."
OOIL said its container carrier had benefited from Cosco's "dual brand" strategy, which had facilitated expansion into new tradelanes, exceeding the cost-saving synergy targets of the 2018 acquisition.
It predicted OOCL would continue its steady growth, which it said had been the reasoning behind its recent order for five 23,000 teu ULCVs. These would, along with its six 21,000 teu vessels, "have the potential to independently form a complete loop in the Asia-Europe trade".
OOIL added that OOCL's membership of the Ocean Alliance, with parent Cosco, CMA CGM and Evergreen, continued to "provide us significant advantage and ensures we are able to offer a broad, high-quality service network to our customers". The vessel-sharing agreement was extended last year to run until 2027.
In regard to the outlook, OOIL said the market was "becoming increasingly complex, with two conflicting signals": on the positive side was the narrowing of the gap in container shipping between supply and demand, and the first-phase trade agreement between the US and China.
However, OOIL said, the coronavirus outbreak had created a "tremendous amount of uncertainty".
"If the epidemic is further escalated globally, and lasts for a long time, the medium and long-term impact will be more extensive and significant, and the growth of the global economy and container shipping demand will decline," it said.
Indeed, investment banker Jefferies said today better results from carriers in the first quarter were "the calm before the storm", noting the comments of Hapag-Lloyd chief executive Rolf Habben Jansen on Friday, warning of a demand slump from May as a consequence of a massive cancellation of orders by retailers.
On Friday, Maersk suspended its full-year guidance to investors, "pending more clarity on the market development and financial implications".