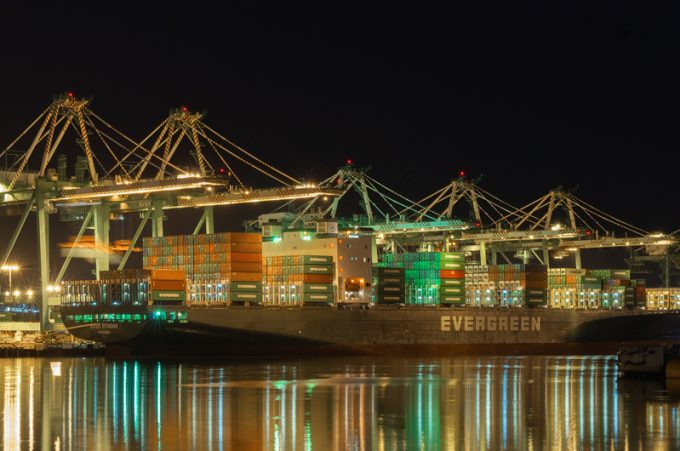 Slot charter and exchange agreements between carriers in rival alliances are increasing as container lines prioritise their search for capacity over the commercial risks of customer retention.
Moreover, container lines are favouring 'used or not used' corresponding capacity exchange agreements that dispense with rate setting, that could assist the slot charterer to gain market share from the slot donor line and avoid complex accounting that can cause lengthy contract disputes.
Alphaliner reports that Japanese carrier ONE, a member of THE Alliance, and Taiwan's Evergreen, part of the Ocean Alliance, have filed a slot exchange agreement with the US Federal Maritime Commission (FMC) for the transpacific tradelane.
ONE will have access to the Ocean Alliance's Asia-US west coast HTW loop, with a rotation of Taipei-Xiamen-Hong Kong-Yantian-Los Angeles-Oakland, which deploys seven Evergreen ships of 12,000 teu. In return, Evergreen will participate in THE Alliance's FP1 pendulum service between North Europe, Asia and the US west coast, which deploys 15 ONE ships of 9,000-9,600 teu, although it will be limited to the Japan-US west coast leg.
Alphaliner says both parties have committed to a weekly round-trip allocation of 150 teu, or 1,500 tons, on a used or not used basis, although by mutual agreement, this number can be adjusted up or down by 50%.
The consultant said Evergreen had been purchasing slots on the pendulum loop since its launch in April 2017, dubbing it the PS1 string, in the first cross-alliance agreement reach with NYK, which is now part of ONE.
And according to Alphaliner data, ONE's participation in Evergreen's HTW loop, which it markets as its CP4 service, is already the fourth Ocean Alliance transpacific service where the Japanese line has struck a slot charter deal, having reached slot exchange agreements with CMA CGM, OOCL and Cosco last August.
In the absence of any open tonnage on the charter market, ONE is endeavouring to sustain its booking commitments and market growth through slot charter agreements. Indeed, despite achieving a 100% utilisation rate on its Asia-North America eastbound headhaul legs last year, ONE saw its liftings slump more than 400,000 teu in its full-year ending 31 March, to 2.35m teu.
The carrier attributed the decline to "blank sailings caused by port congestion and vessel delays".
Meanwhile, notwithstanding the slot exchange deal, ONE appears to be about to be overtaken by Evergreen for sixth place in the ocean carrier capacity rankings. According to Alphaliner data, the Taiwanese carrier has a fleet of 200 vessels for a capacity of 1,511,390 teu – just 4,283 teu, or one panamax charter away from overtaking ONE.
And, in the longer term, Evergreen seems the more ambitious in its growth aspirations, having the second-largest orderbook, behind MSC, of 65 newbuilds for a capacity of 627,000 teu, compared with ONE's newbuild orders of 25 vessels for 328,000 teu.
To hear more about what's next for global shipping and rates, listen to this clip from The Loadstar Podcast, out today.
And for more on US logistics and shipping, try this clip: