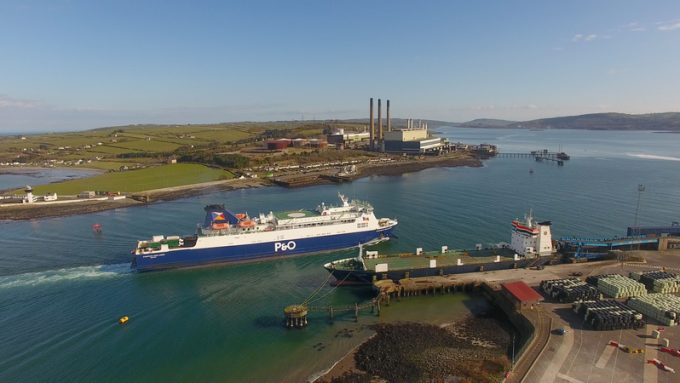 Business leaders are calling for greater guidance and communication from the UK government to keep goods moving following implementation of the Northern Ireland Protocol.
Supply chains to Northern Ireland felt the immediate impact of the end of the Brexit transition period on 31 December, with Logistics UK's policy manager for the region, Seamus Leheny, claiming many promises of the Trader Support Scheme (TSS) are not being met.
"Unfortunately, the change was noticed with immediate effect, with a lot of upheaval and adjustments for operators," Mr Leheny told Parliament's Northern Ireland Affairs Committee yesterday.
"It was inevitable with the last-minute approach of it all, but if it was going to happen, January is the best time as it's quieter for freight. Even so, we are having problems with customs, and while TSS is holding up in some areas many promises are not being met."
He said processing times, meant to be 30 seconds, were taking as long as 12 hours, and 70 promised staff were in fact just four.
While condemning an absence of information and support, he noted that officials on the ground from the Department of Agriculture, Environment and Rural Affairs were proving a credit to the industry.
"You've lorries from GB coming with no paperwork; legally they should be sent back, but rather than throw the rulebook at them, officials are sorting it on the ground," he said.
"Most NI companies know what they have to do, but the breakdown is coming from those in GB who do not know what the new customs rules are. They think the grace period includes all food products, without realising that they have to submit pre-declarations.
"They're coming in with paperwork that says their load contains 'food' without any further details."
Director of the Northern Ireland Retail Consortium Aodhan Connolly noted that a number of suppliers, "either because it's too much hassle or because they don't understand it", are opting out of servicing NI.
This week, The Loadstar reported that "hundreds" of product lines were said to be missing in Sainsbury's NI stores, while a spokesperson confirmed "some lines" were absent because of new customs rules.
Mr Connolly told the MPs: "It's not enough to put it at the door of GB business… there's been a lack of communication, guidance and a lack of time provided to GB business to prepare to send goods to NI, and now an absence of understanding of what to do," .
Supply chains will always take path of least resistance and NI will get cut out, to the detriment of the NI consumer, he warned.
"These new regs are only in place until 31 March, after which we again don't know what will happen. It's those that are moving the goods that don't know how things work that need to be trained properly."
DUP MP Ian Paisley questioned Mr Leheny on the viability of the protocol, suggesting it may be necessary to enact Article 16, which allows the protocol to be dropped.
However, Mr Leheny said he did not believe now was the right time to take such a step, noting that businesses on the ground were finding "work-arounds", but he warned that as freight volumes began to increase following the post-Christmas lull, the situation may change.
But Mr Paisley suggested the protocol was an "impediment to trade", suggesting "a blind man on a galloping horse" could see its faults.
As evidence, he offered the words of a businessman he had contacted: "The way the protocol is set up is a disaster for drivers; they're parked up all over the UK with mountains of form-filling hindering trade big time. It's costing us a clean fortune."
One source told The Loadstar that the first week of new rules had been "very tough" and, even for those with significant experience, there was a "massively steep learning curve".