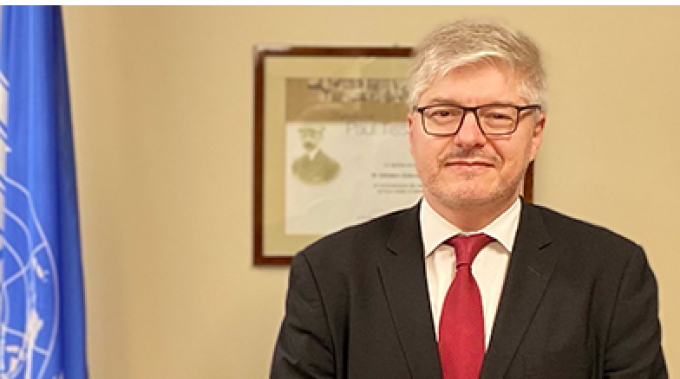 The cargo industry has welcomed the arrival of new ICAO secretary general, Juan Carlos Salazar, who takes up a three-year term following the departure of Dr Fang Liu.
Mr Salazar joins ICAO from Colombia's civil aviation authority, where he was secretary general for the past three and a half years. Former president of the Latin American Civil Aviation Commission, he has also advised the UAE's CAA and has 26 years' experience in civil aviation, public policy and the "management of large and complex organisations".
His appointment comes as the UN's specialised agency for civil aviation gears up to ensure cargo flows smoothly through the global flight network while passenger traffic slowly rebounds.
"It is a great honour to be assuming this role at this time, and to have the opportunity to help governments and ICAO play an important part in how this sector builds back better and recovers from the global pandemic," Mr Salazar said.
"We are still facing some tremendous challenges to the restoration of global air connectivity today, and with many regions and populations all over the world facing prolonged economic, social, and emotional hardship as a result."
ICAO has recently renewed its focus on cargo operations, amid a troubled period for aviation. Earlier this year it called on countries to lift restrictions on air cargo, by adopting seventh freedom rights for cargo operators, in a bid to boost supply chain connectivity.
The organisation supported the Latin American Civil Aviation Commission's decision to set up seventh freedom rights for cargo airlines in its 10 subscribing countries, in an agreement which currently lasts to the end of the year, but could be extended. ICAO has said it hopes Latin America will become a model for other markets, with Africa particularly in its sights.
ICAO has also announced a series of other measures to help authorities alleviate problems in air cargo, including removing airport restrictions and allowing temporary traffic rights.
Fiata, Tiaca, the Global Express Association and the International Port Community Systems Association have all welcomed Mr Alazar's appointment.
They noted that he arrives at "a critical time for air cargo, which shares some of the challenges of the passenger industry but also faces unique difficulties in the current operating environment".
"ICAO is appropriately placed to build on this heightened profile – communicating the importance and potential of air cargo, championing policies to further develop the sector and supporting the drive for digitalisation," the associations said, adding that they were "eager" to support ICAO.
The associations called for a focus on digitalisation, ecommerce and a cargo-specific regulatory framework.
Mr Salazar has plenty to get his teeth into. In October, ICAO is running a virtual "High-level conference on Covid-19", to talk to member states about future-proofing air cargo operations, and build resilience into the air transport industry.
ICAO said that discussions around a specific and open economic regime for cargo-only operations, including so-called seventh freedoms, "should be part of this venue".
"The ICAO Council is very pleased to welcome Mr Salazar as he officially assumes his new role, and as council president I look forward to working closely with him in helping to modernise ICAO and make it a more responsive and efficient agency at the service of its 193 Member States," noted ICAO council president Salvatore Sciacchitano.