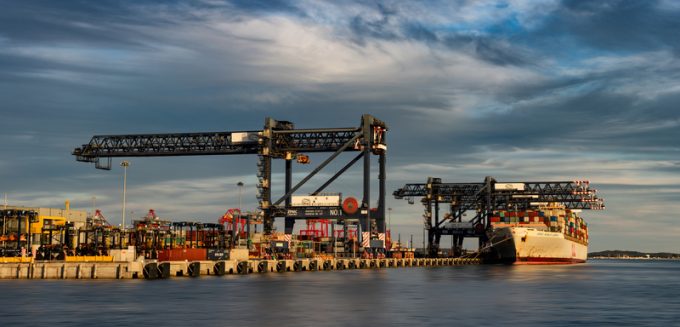 The Maritime Union of Australia (MUA) has suspended all industrial action at Patrick Terminals, without a pay deal.
However, the build-up of 100,000 containers at four ports could still take up to three months to clear, and with no new labour agreement reached, there's no guarantee work stoppages won't resume as peak season gets under way.
The move follows a two-day hearing at the Fair Work Commission (FWC), after Patrick filed an application to have industrial action terminated at its Sydney, Melbourne, Brisbane and Fremantle terminals, citing a "damaging economic impact to the country".
The FWC hearing has been adjourned until 26 October, and the MUA announced there would be no further action until then.
The union claimed Patrick had rejected its "peace deal" of a 2.5% a year pay rise over four years, down from its previous demand of 6%.
And Patrick's counter offer, of 1.5% a year with no changes to conditions or rosters, was rejected by the MUA.
According to Patrick, the average full-time wharfie salary at port Botany is A$172,124 (US$121,000) a year.
CEO Michael Jovicic said the union had "backed down and walked away with nothing" after inflicting "unnecessary pain" across the supply chain.
"Having lost in the court of public opinion they decided to retreat to fight another day," he claimed.
Indeed, the dispute was under increased public scrutiny this week after Prime Minister Scott Morrison accused the MUA of "engaging in a campaign of extortion" against the Australian people.
The union also came under attack from shipping lines, forwarders and business groups warning that the severe port congestion at Sydney's port Botany raised the prospect of cancelled orders, retail shortages over Christmas and heavy losses for agricultural exporters.
For example, in addition to congestion surcharges, at least three shipping lines have suspended bookings, and reduced services, to Australia, following schedule delays of up to three weeks at Botany and knock-on delays at Melbourne and Brisbane.
Mr Jovicic added: "We can get on with clearing the backlog which exceeds more than 100,000 containers around Australia. My operations team estimate it will take between two and three months. Hopefully, this means we will avoid shortages of goods at Christmas time."
John Park, head of business operations at the Freight & Trade Alliance, said the news would provide temporary respite, but warned of the potential for further disruption without a deal on the table.
And he added: "Not only are there quayside issues in Port Botany, there is also massive congestion at all empty container parks, forcing transport companies to make multiple trips to de-hire empties and/or storing them in their yards or their clients' yards, as many lines have indicated they only want certain types of equipment de-hired."
Meanwhile, DP World announced today it had reached an in-principle enterprise agreement at its Sydney terminal with the MUA covering the next three years, and is "well placed" to reach similar agreements at its other facilities.
Andrew Adam, chief operating officer, said the agreement provided a wage increase for employees and enabled productivity improvements and added: "No protected industrial action will take place for the term of the three-year agreement, delivering stability for our customers and the wider NSW supply chain."