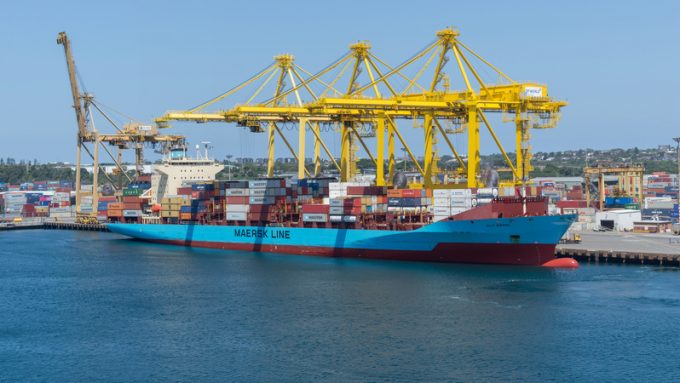 Despite signs of a rapprochement between docker unions and container terminal employers in the port of Sydney, shippers have been warned to expect continuing congestion in container supply chains.
And some carriers are refusing bookings for shipments to the port.
Yesterday, Maersk announced a temporary suspension on Sydney bookings, likely to last until the end of the month.
It said: "To remove uncertainty for our customers' supply chain and to assist handling of our vessels calling Sydney, Maersk is taking the difficult decision to temporarily stop acceptance of all new bookings from Asia, Europe, Middle East, Africa and India sub-continent to Sydney, effective immediately.
"It is expected we will re-open booking acceptance from 1 October, but will continue to review the situation and open earlier if possible," said a customer advisory, which added that Maersk would still accept bookings from North America.
According to liner database eeSea, the Danish carrier operates six services to Sydney, in conjunction with other lines, two of which – the PNZ and OC1 services – originate in North America. The remaining four – Cobra, Yoyo, Southern Star and Dragon – link Australia with Asia.
This spells further bad news for the trade as its struggles to repatriate empty containers in Australia to Asia in time for the peak season.
According to CH Robinson, importing from Asia is currently at risk due to the inability to export full and empty containers back to Asia, and the company cited research from NSW Ports that shows an imbalance of 30,000 teu between full and empty imports, and full and empty exports between April and June.
"At the same time, there has been a decrease in Australian exports due to Covid-19 staff restrictions, which, combined with the congestion at our ports, have caused chaos for transport operators, with costs set to trickle down the supply chain to Australian consumers," said CH Robinson vice president of Oceania Andrew Coldrey.
He explained that the severe congestion at the port of Botany was caused by weather disruptions, industrial disputes and "overcrowding at overwhelmed" empty container parks, which has reduced operational efficiency and caused ships to redirect to Melbourne.
However, this has placed "greater pressure on Melbourne's already struggling ECPs, culminating in further strain on trucking and additional supply chain costs".
Mr Coldrey added: "This issue has been slowly mounting and has reached a stage where Australian consumers are most likely going to suffer at the checkout.
"At the beginning of the year, planning by freight forwarders couldn't have accounted for the differing consequences of a world pandemic. Our current import allocations are committed and we are seeking more, but spare shipping allocation is now being sold at a premium, adding additional costs throughout the supply chain.
"With the busiest quarter almost upon us, we must address the bottlenecks at key Australian ports," Mr Coldrey said.