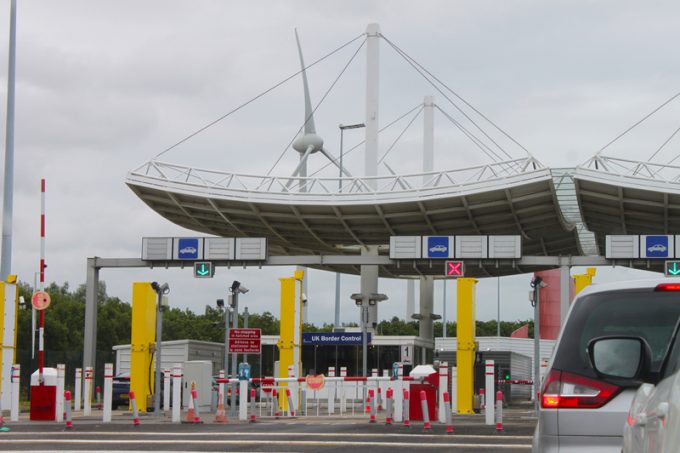 It is now too late for the UK to implement new border infrastructure to handle a no-deal Brexit, according to the National Audit Office (NAO).
The NAO's UK Border: Preparedness for EU Exit  report claims government-identified changes to border infrastructure in the event of a no-deal scenario cannot be built by March.
"For example, HMRC will need to develop infrastructure to enable the tracking of goods, and Border Force will require space and facilities to physically examine goods," says the report.
"Significant changes will not be possible before 29 March 2019, in part because ports and others need certainty on future arrangements before they will invest in new infrastructure.
"Without the necessary infrastructure, HMRC, Border Force and others may not be able to fully enforce compliance regimes at the border on day one."
Although it notes that government departments are exploring alternatives for enforcement, such as trusted trader schemes, it says the additional resources required for this would also not be ready in time.
UK Border Force plans to recruit 581 full-time staff, but the NAO suggests as many as 2,000 would be needed for a no-deal situation.
The UK Freight Transport Association (FTA) says the report justifies logistics industry fears.
Head of European policy Pauline Bastidon said: "The NAO report confirms that fears over border readiness for Brexit in the event of no deal are justified.
"There are so many elements to prepare if trade is to move freely – government IT, contingency measures for delays and government resources to handle new controls and procedures.
"Despite repeated warnings since Article 50, it's concerning the NAO has confirmed it's now too late to implement new infrastructure, and processes on day one Brexit will be 'less than optimal'."
Even if a deal is reached, the report suggests there will still be "significant work" required by both government and industry to implement the changes needed by the 2020 deadline, when the transition period expires.
"It has decided to prioritise security and flow [of traffic] over [regulatory] compliance in the short term," says the report, "and Defra intends not to apply regulatory or safety checks on the majority of agricultural and EU food products.
"This is because its planning assumption is that risks at the border will not change immediately, and that overall patterns and volumes of border crossings will initially remain the same."
According to the report, the government has not defined what "less than optimal" might mean, but this could include delays to goods crossing the border.
It also suggests there could be increased opportunities for tax and regulatory non-compliance, although HMRC is reportedly less concerned over tax compliance.
"In the event member states apply third-country controls to imports from the UK, there will be a significant impact on the flow of traffic crossing the border," the report adds.
"The Border Delivery group is working with departments and the Cabinet Office's civil contingencies secretariat to put civil contingency plans in place.
"Plans are progressing to cope with issues such as queues of traffic in Kent, and to enable the continued supplies of essential goods and medicines."
Ms Bastidon said that while the logistics sector was adept at adapting to change, clarification would be required on a number of elements linked to a no-deal scenario.
She called for the UK government to reveal its schedule on the introduction of tariffs and arrangements concerning the safe passage of trucks, as well as more visibility concerning border controls.
"Logistics is the 'fall guy' for government's lack of planning, and with most of our questions on future trading arrangements unanswered, it'll be difficult for members to keep doing what they do best."