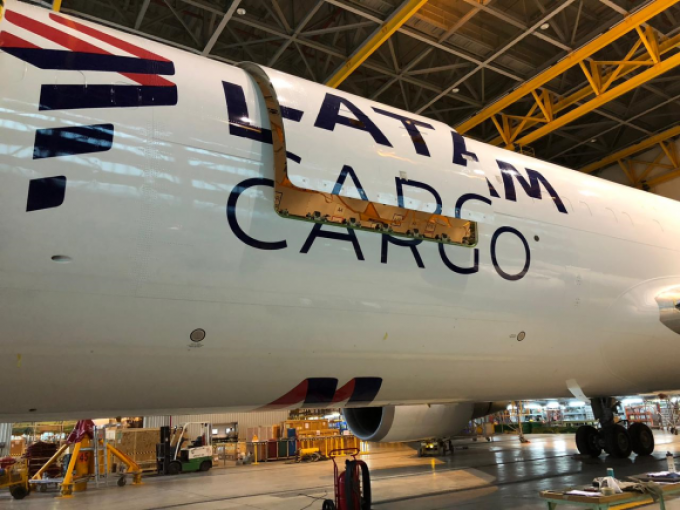 Having added a B767 freighter to its fleet, LATAM Cargo has wasted no time in putting it into operation.
On 19 February, Latin America's largest cargo carrier will start twice weekly flights between Santiago and Chicago, returning via Miami.
LATAM took delivery of the converted 767-300ER in December, the first of three such aircraft to join its freighter fleet – the remaining two are scheduled to enter service later this year and in 2020.
The arrival of the 767-300 brought the carrier's freighter fleet to 10 cargo aircraft, all of them 767s.
Although deployed between Chile and the US, the new freighter operation aims beyond North America, and its chief cargo will be perishables – primarily salmon – bound for Asia.
Moving over Chicago establishes a faster connection to Asian markets, the carrier said, and working with interline partners for the Chicago-Asia leg LATAM can offer its clientele of shippers in Chile transpacific transit times of under 35 hours.
"Having access to Chicago gives us a number of benefits," said Kamal Hadad, director of LATAM Cargo Network. "The greater diversity of operators in this city allows us to have more alternatives for entering into interline agreements, thus meeting the increasing interest of our customers in shipping their cargo to Asia. Miami and Los Angeles continue to be crucial for LATAM Cargo's operation and we serve them both with our all-cargo planes and our passenger airliners' bellies. But Chicago adds diversification."
Perishables exports from Latin America to Asia have gone through the roof. Over 80% of Chile's cherry crop in 2017 was exported to China. For last year's cherry season DHL Global Forwarders lined up 15 charters to serve Asian markets.
Chile has been the most aggressive Latin American country in the pursuit of Asian sales, but others are following suit – Peru, which signed a free trade agreement with China in 2009, is currently negotiating an updated agreement and according to Peru's trade minister, this is expected to be ready next year.
While cherries, blueberries, asparagus and flowers create seasonal peaks, salmon is enjoying stable demand year-round, said Andres Bianchi, vice-president of cargo at LATAM.
According to the airline, salmon exports from Chile to Asia have grown from an average of 37 tonnes a week in 2014 to 700 tons a week last year.
Traffic to Asia, China above all, was a major driver of the rise in outbound traffic for LATAM in 2018, Mr Bianchi noted.
He said he wants to boost his company's reach to Asian markets to support perishables exporters in Latin America, however LATAM does not have cargo aircraft to fly across the Pacific. The last of its B777 freighters were sold last year to consolidate the cargo fleet to one type.
As a result, Mr Bianchi is looking to other airlines to move perishables across the Pacific.
"Interline is something we are working on with the growth to Asian markets. We are working with current and prospective partners to find more and better solutions for our customers," he said.
These partnerships are not solely confined to airlines. In early December LATAM launched a weekly freighter flight from Bogota to Huntsville to feed perishables exports into Panalpina's network.
The logistics provider, which has used Huntsville for a long time – initially chiefly for automotive traffic – has aggressively built up its perishables capacity over the past couple of years.
Last year it took over Newport Cargo, the leading airfreight export agent in Argentina, and also expanded its Huntsville gateway, adding 11,000sq ft of cold storage space with variable temperature ranges.
LATAM's latest route meets buoyant demand for lift to Asia. "There is never enough capacity to China," remarked one American carrier executive.
And it is a situation that is unlikely to change in the near term.
While exports from Latin America to Asia are on a high, traffic in the opposite direction has been hampered by economic headwinds and downward pressure on currencies in Latin America, especially Brazil.
Moreover, while Latin America's largest economy remains the primary market for Asian exports, perishables exporters in Latin America are primarily concentrated on the west coast.