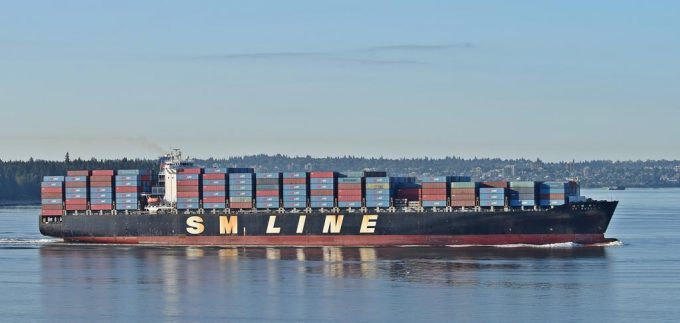 SM Merchant Marine (also known as SM Line) has pushed back its initial public offering (IPO), after demand from institutional investors fell below expectations, the South Korean liner operator said today.
The company had hoped to raise up to $722m through a listing on the Korea Exchange's secondary KOSDAQ counter, and held a two-day book-building session, which ended yesterday, to determine the offer price.
The stock was to be priced from KRW18,000 ($15.30) to KRW25,000 ($21.30), and the proceeds were intended to help expand SM Line's operations, including starting an Asia-US east coast service.
SM Line was established in late 2016, after the Samra Midas group, which also controls dry bulk ship operators Korea Line Corporation and Korea Shipping Corporation, acquired bankrupt Hanjin Shipping's remaining portfolio.
The firm said it decided to delay the IPO after discussions with lead underwriter NH Investment & Securities, judging the market's reception not sufficient, amid the Covid-19-hit economy and stagnant prices of shipping stocks. The decision came a day before public investors were supposed to subscribe to the stocks.
SM Line was hoping to ride the wave of the bullish container market, its $267.8m net profit for H1 21 having exceeded its 2020 profit of $99m. The company's listing was to have been the first South Korean shipping IPO since tanker operator KSS Line in 2007.
The carrier said: "We have completed all the preparations for the IPO, however, rather than rushing to list, we decided to dispel market concerns and re-launch the IPO at an appropriate time.
"Even though the company's profitability has improved, the stock offer price has not been well evaluated, due to excessive concerns about the shipping market and a weak investor demand for IPO subscriptions."
It is not easy to list a container line – this year's IPO by Zim in New York was its fourth attempt after three previous failures.
However, it is still likely to come as a surprise to the industry, given the unprecedented profits currently being reported by liner operators, as well as expected strong demand from domestic investors.
"Interest is currently strong among Korean investors for maritime assets, with shipbuilder HHI [Hyundai Heavy Industries] raising $930m in an IPO a month ago," Alphaliner wrote in a recent research note.