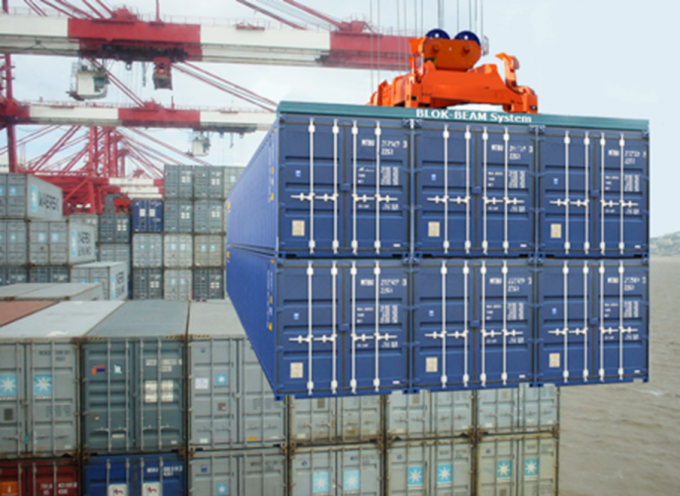 A new system to improve productivity in empty container handling at quaysides is set to be unveiled in Shanghai this month – its architects claiming it could save the shipping industry billions of dollars a year.
The BLOK-BEAM system (pictured above) is able to handle six empty containers together during loading and unloading operations at container terminal quaysides.
A pair of steel beams connect the six empty containers to form a single block, which can be lifted as one unit. BLOK-BEAM was developed after following significant increases in container crane safe working load levels.
BLOK-BEAM Ltd managing director John Evans said: "Now that ships are able to deliver around 20,000 20ft containers on one vessel – and the cranes to service them can lift up to 100 tonnes at a time – it is the ports which, in spite of their improved efficiency, have become the focus of attention in ship-to-shore movement."
Based on assumptions that around 25% of all container moves are empty boxes, that annual container throughput at the world's ports is around 500m teu per year – although the World Bank recorded a global port throughput of 684m teu in 2014 – and that it costs a shipping line $300 per lift (a figure that many carries and terminals would dispute), Mr Evans suggested that shipping lines could save billions a year in terminal handling charges alone.
"We estimate that if only one-third of empty container moves are handled by BLOK-BEAM, the industry would save over $2bn per year – before even considering the vast expense of idle time, fuel savings, general efficiency, losses at sea and safety," he explained.
Concurrently, the company has also designed a trailer "that acts as a jig for BLOK assembly and then as a trailer for transporting the BLOK, neatly and quickly, to the cranes for loading".
Preparing the OX special trailer is done away from the quayside, "so that the stevedores can work regular hours in safety preparing the container BLOKs ready for the arrival of the ship", it was explained.
Martin Clive-Smith, BLOK-BEAM engineering director, added: "By moving 80% of container preparations off the busy quayside, the risk of accidents is reduced, while time is saved. Likewise, the BLOK-BEAM System has the potential to cut on-deck lashing by more than 50% and yet increase stability at sea."
The company is set to officially launch the product at the QSOE factory in Shanghai, where the unit is in its final stages of production, on 28 November.