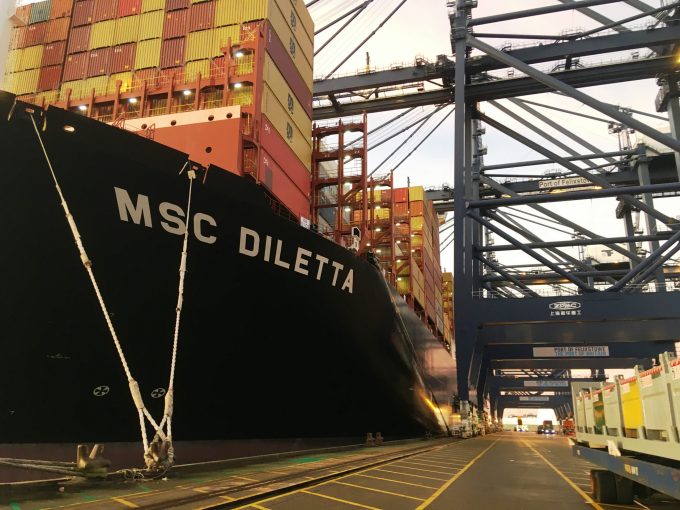 The extraordinary lengths operators are having to go to clear congested container ports was highlighted this week when Felixstowe revealed it had broken its record for the largest exchange of containers on a single vessel.
A total of 23,773 teu, almost the entire nominal capacity of the ultra-large container vessel (ULCV) MSC Diletta, was exchanged over one week.
MSC Diletta first appeared on The Loadstar's radar early this week when a local Mission to Seafarers volunteer in Felixstowe noted it had been berthed at the UK port for "almost a week, certainly the longest I've ever seen a ship stay at the port".
Yesterday the port of Felixstowe confirmed that 23,773 teu had been handled on the vessel, which sailed from the port on Wednesday.
The call also gave an insight into current productivity levels at the UK's largest box port – 23,773 teu is around 14,000 boxes. According to AIS data, the vessel was alongside in Felixstowe for 129 hours, so that's an average of 110 box moves an hour.
However, this is a gross figure that includes berthing/unberthing time, work breaks, hatch moves and so on, so the net performance would be higher than 110, possibly 120-130 boxes moved every hour.
The vessel is deployed on the 2M's Asia-North Europe AE55/Griffin service, which has been acting as a sweeper in recent months. The service's normal North Europe rotation of Rotterdam-Felixstowe-Le Havre was disrupted last year, due to the congestion in the region, the call at Rotterdam dropped in November as carriers sought to fulfil UK imports and hoover-up the burgeoning numbers of empty container in the country.
As a general rule of thumb, prior to the pandemic a typical ULCV call in North Europe would normally see 4,000-5,000 boxes exchanged.
"The size of containerships has been increasing for many years and, with growing demand for services into Felixstowe, we are seeing ever-greater container exchanges," said Robert Ashton, Felixstowe operations director. "We are also seeing a trend to consolidate cargo on fewer ultra-large ships.
"We are very pleased with the performance on this call and to have been able to work with the 2M partners to help achieve their objectives to supply the current high demand for Far East imports to UK consumers," he added.
Work is under way to further increase the port's ability to handle ULCVs independent of tides, with Harwich Haven Authority dredging the main approach channel, to increase its depth from 14.5m to 16m, which is due to be completed in 2023.
The port is also increasing the depth at its deepwater berths. Berth 7 was deepened to 16.5m in 2021 and Berth 6 will also be dredged to 16.5m this year, while Berths 8 and 9 are increased to 18m.