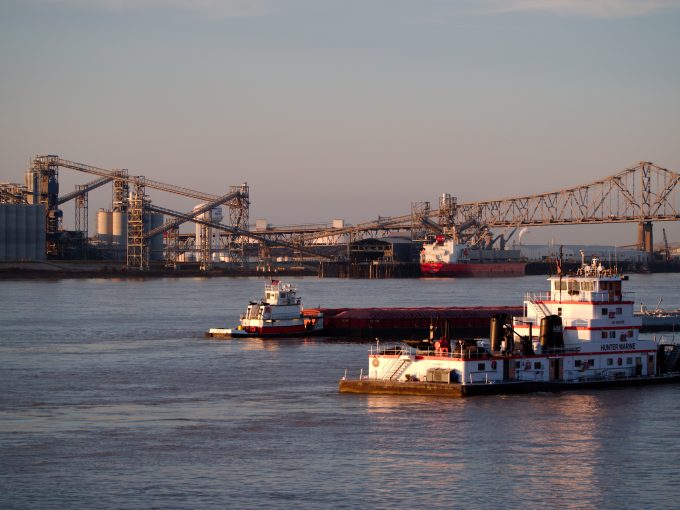 Louisiana looks set to become the next hot container gateway to the US market, with plans for two neighbouring large box terminals moving forward.
Ports America, the largest container terminal operator in the US, and MSC have pledged $800m to a $1.8bn container facility project at the port of New Orleans.
The proposed Louisiana International Terminal – a public-private partnership between the two companies, the state of Louisiana and the port of New Orleans – should bring capacity of 2m teu to the port. Construction is supposed to kick off in 2025, with the first berth due to open in 2028.
The site is just three miles from Plaquemines, where a consortium of private developers – including Plaquenimes Port and APM Terminals – intends to build a container terminal.
Either of these planned facilities would mark a steep step up from the current container infrastructure at New Orleans. Owing to restrictions due to a bridge, the port's box facilities at Napoleon Road cannot serve vessels larger than 10,000 teu. The new terminals would be able to accommodate much larger ships, and would have better rail connections to the interior.
Brian Harold, MD of APM Terminals Mobile, stressed the importance of being able to handle ultra-large container vessels. To that end, both the ports at Mobile and Houston are dredging their channels to 15.25 metres, which the port of New Orleans recently completed, he pointed out.
The plans augur a drastic change for the port of New Orleans. It has serviced container operations for years, but its historical focus has been on bulk and breakbulk traffic, mostly exports coming down the Mississippi River, noted Bob Imbriani, EVP international at forwarder Team Worldwide.
The ports in the US Gulf area could be a viable area of development, but historically their potential has been hampered by lack of box carrier operations, he explained.
The Louisiana state government is eager to change that. It has offered $50 per teu/$100 per feu to importers bringing in goods through the port of New Orleans that are tied to new or expanded distribution centres, among other incentives.
Container traffic through the US Gulf ports has surged over the past year as importers switched flows from Asia from the west coast in case they got delayed by congestion or a work stoppage as the west coast terminal operators and labour groups were embroiled in contract negotiations. As a result, container volumes at the port of Houston were up 26% in September.
To cope with ongoing congestion the port authority will start charging a long-dwell fee on boxes from 1 February. Originally the fee was set to kick in by early December, but software issues delayed implementation.
At Mobile, box volume is up over 10%, reported Mr Harold, who reckons a lot of the cargo shifted from the west coast will continue to flow through Mobile even after the issues with congestion and labour negotiations have been settled.
"I think more are going to stay than shift back," agreed Mr Imbriani.
Service levels and productivity at Mobile have been high, Mr Harold said, adding that rail service to the interior had performed well. The focus has been on traffic to Chicago and Memphis, but he sees a lot of potential for rail traffic to other markets, pointing to Canadian National services to Detroit and Canada, and CSX connections to markets like Louisville.
Mr Imbriani emphasised the need to build good rail connectivity out of the planned container ports at New Orleans.
"It's important to build up services – chiefly rail and drayage, but also roads and infrastructure. It's more than building a viable port," he said.
The venture between the port of New Orleans, Ports America and MSC does not faze Mr Harold. PMA's plans for a facility at Plaquemines are targeting different traffic, so there should be room for both facilities to flourish, despite some overlap, he said.
There have not been any significant milestones for the Plaquemines project recently, but permitting and land acquisition should move forward halfway through the year, he added.
Expansion schemes aside, box lines appear eager to assume better control over their operations through investment in terminals. In late December, the ONE announced plans to acquire a 51% stake in each of the three terminals of TraPac and Yusen on the west coast so far held by Mitsui and NYK.
"The recent disruptions to the supply chain due to Covid-19 have highlighted the importance container terminals play in keeping global trade flowing. The newly acquired container terminals will safeguard ONE's access to terminal capacity in key and strategic gateways, support its growth ambitions and enhance its service offerings to customers," said the carrier.