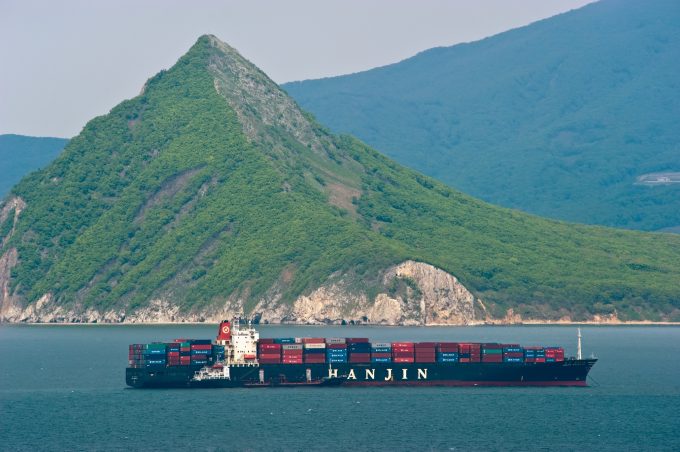 Rumours of a merger between troubled South Korean shipping groups Hyundai Merchant Marine (HMM) and Hanjin are "half-baked", according to Hyundai Group's PR firm.
The Loadstar was contacted today by the Seoul office of PR firm Weber Shandwick to "provide an accurate and fact-based state of affairs of HMM and its recovery plan".
It said: "The merger between HMM and Hanjin Shipping is a half-baked rumour, as little synergy effect is expected due to their overlapped business fields.
"In addition, because both companies are listed in the market, the merger could cause a huge loss for stockholders/investors and a lot of confusion in the market."
Weber Shandwick added that the South Korean Minister of Oceans and Fisheries (MoF), Kim Young-suk, supported HMM's recovery plan and keeping the status quo of two shipping groups.
The PR firm, which has compiled a fact sheet, said HMM's recovery plan was gaining momentum.
The plan, which includes the sale of assets and emergency liquidity assistance, is backed by HMM creditors, including Korea Development Bank (KDB) and the MoF.
In the case of the MoF, Weber Shandwick said it had "signalled" a series of support programmes for HMM "once the recovery could be seen".
However, the KDB has stated publicly that it would only proceed with a debt-equity swap "once HMM successfully concludes its charter cut negotiation".
As reported in The Loadstar yesterday, a negotiating team from HMM, accompanied by the company's financial advisor, Millstein & Co, have been in London since Monday, conducting talks with shipowners with a view to reducing daily hire rates for its 41 chartered-in containerships.
According to a source, although the talks have been friendly, there has been no significant breakthrough in amending charterparty terms.
Greek shipowner Danaos has 13 containerships on long-term charter to HMM, while London-based Zodiac Maritime Agencies has charter commitments on 10 vessels, five of which are newbuilds stemmed for delivery by July.
According to data from Alphaliner, HMM has long-term charters with four other non-operating containership owners.
HMM is anxious to successfully conclude these charter hire renegotiations ahead of a critical creditors meeting scheduled for mid-March.
Weber Shandwick told The Loadstar it also wanted to clarify HMM's sale of its dedicated dry bulk business, which it said was "often misunderstood by non-Korean press".
The PR firm said HMM had signed a contract with H-Line to sell only its bulk dedicated business, for around $100m plus $350m of debt. Stating that HMM was selling its bulk carrier business "could be misleading" given that its dedicated bulk business represented only one part of the business sector.