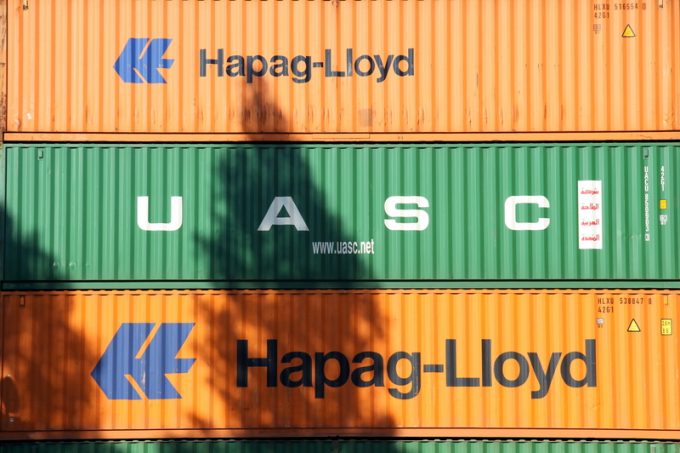 A third quarter performance "at the upper end of our expectations" saw Hapag-Lloyd recover all of its first-half losses to end the nine-month period $15m in the black.
"We have seen a positive development in the third quarter and also ended on a positive net result after nine months," said chief executive Rolf Habben Jansen.
Hapag-Lloyd carried 3.1m teu on its 222-ship fleet during the third quarter, nearly a 9% increase on the same period of last year, at an average freight rate of $1,055 for revenue of $3.54bn.
It posted a quarterly EBIT of $252m and a net profit of $137m.
Mr Habben Jansen said that the impressive above par volume growth was "not so much to do" with the troubles of it's THE Alliance partner ONE, but more to the inclusion of UASC volumes and a strong performance in Latin America and on the transpacific.
The positive result was also achieved despite Hapag-Lloyd paying an average of $432 per tonne for bunkers in the quarter, which was 44% higher than the year before.
After being obliged to issue a profit warning in June as costs spiralled out of control Mr Habben Jansen was more positive on the outlook for the full-year.
"Despite the persistent upwards pressure on the operational costs in various parts of our business, we remain cautiously optimistic for the rest of the year," he said.
However, for 2019 Mr Habben Jansen said "the biggest question is demand growth" associated with geopolitical risks, including the US-China trade war, although he added he did not expect demand on the transpacific to "fall off a cliff".
Mr Habben Jansen said that in practice the higher cost of fuel as a consequence of the IMO 2020 0.5% sulphur cap regulations would be felt by carriers in the fourth quarter of next year as vessels decontaminate their tanks and replenish with low-sulphur fuel in order to be compliant from 1 January 2020.
He said that discussions with shippers on the carriers' marine fuel recovery (MFR) mechanism, designed to replace other bunker surcharges currently in place from 1 January next year, "starts now with all of our customers".
"So far we have generally received good feedback on our MFR proposals from customers," said Mr Habben Jansen, "Some have gone well…most of the shippers understand."
He also refused to accept that carriers such as MSC and Evergreen for example, who are rolling out their scrubber strategies, allowing their ships that have the exhaust gas cleaning systems to continue to consume cheaper heavy fuel oil, would have a cost advantage over carriers, such as Hapag-Lloyd, who do not support the scrubber solution to IMO 2020.
He maintained that by 2020 only around 5% of ships would have scrubbers fitted meaning the "vast majority" of container vessels would have to purchase low-sulphur fuel in order to be compliant.
Hapag-Lloyd expects the additional cost of compliance for its fleet will add around $1bn per annum to the carrier's fuel bill.
At present it is planned that only one of the carrier's operating fleet will have a scrubber system installed next year "as a trial".
And LNG may not be the answer either. Mr Habben Jansen said that there was "still a lot of uncertainty" about the supply of the gas and therefore only one of its 17 'LNG-ready' ULCVs inherited from UASC would be fitted with LNG tanks next year – again, "as a trial".