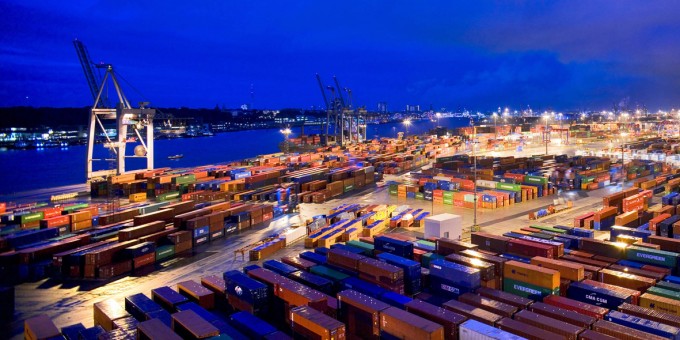 The port of Hamburg saw the number of containers processed at its terminals in 2015 decline by 9.3%, demoting it to third-place in theNorth European container port rankings, behind Rotterdam and Antwerp.
Hamburg handled 8.8m teu last year compared with Rotterdam's 12.2m teu and Antwerp's 9.6m teu.
Axel Mattern, from Hamburg's marketing executive board, said: "[Loss of} container traffic with China, down by 14.4%, and with Russia, by 34.4%, could not be offset by growth with other countries, such as Malaysia, India, the UAE or Mexico."
There was also a 38.8% fall in Polish traffic handled at Hamburg, which was mainly attributed to the increase in direct calls to Gdansk by the 2M and G6 alliances.
However, at yesterday's press conference, the port management board warned against "conjuring up a crisis" over the near-double-digit drop in containers.
"That harms our port and plays into the hands of our competitors," said Senator Frank Horch, "For us, economic fluctuations are nothing new – they are part of our business."
The importance of Hamburg's container trade with China cannot be underestimated. Last year it was still 2.54m teu – representing almost 30% of the port's total throughput.
Hamburg did see a significant 27.6% increase last year in the number of calls by ultra-large container vessels (ULCV), to 647, adding more urgency to the need for deepening the navigation channel in the Lower and Outer Elbe.
According to port officials, deepening, which still awaits approval from the courts, would enable an ULCV to transport an extra estimated 1,800 teu of loaded containers during each call at Hamburg.
Executive board member Ingo Egloff said: "We urgently need to dredge  the channel. The restrictions currently in force on the Elbe limit the use of transport capacities of large ships, and are hampering ships meeting and passing."
Indeed, the recent grounding of the 19,100 teu CSCL Indian Ocean, following a malfunction in the ship's steering gear in the navigation channel, has rekindled the debate on the safety of ULCVs using Hamburg.
According to Mr Egloff, the deepening project, which also includes the provision of a 385-metre-wide passing channel, will improve safety.
In terms of modal split, Hamburg remains by far the top intermodal port in Europe, with around 50% of its containers transported by rail, compared with about 19% in Rotterdam and 8% in Antwerp.
Overall, Hamburg recorded a 5.4% decline in its tonnage throughput in 2015, to 137.8m tonnes, and the port was reluctant to give a container throughput prediction for this year.
It said: "Given the difficulty of assessing the development of foreign trade in the port's core markets, it is hard to make a forecast for 2016."