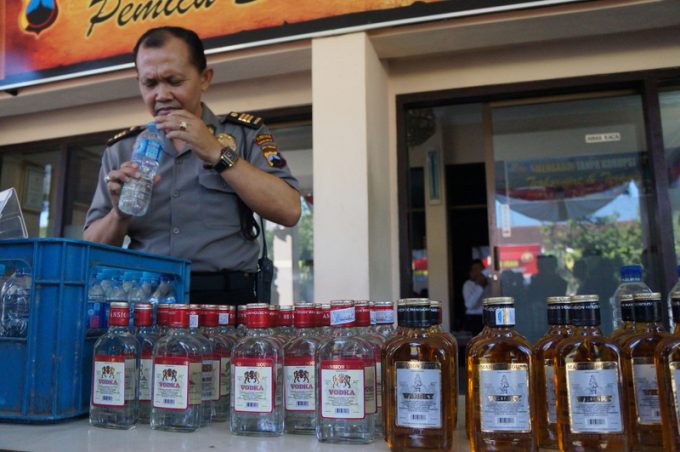 Interpol has revealed how,  in recent months, police operations across 57 countries have led to thousands of tonnes of counterfeit food and drink being confiscated from increasingly sophisticated thieves operating in the global food supply chain.
Interpol's Operation Opson V resulted in the seizure of more than 10,000 tonnes of fake food and 1m litres of fake drink in a series of coordinated raids across the world at shops, markets, airports, ports and industrial estates.
Chris Vansteenkiste, cluster manager of the Intellectual Property Crime Team at Europol, said: "Today's rising food prices and the global nature of the food chain offer the opportunity for criminals to sell counterfeit and substandard food in a multi-billion criminal industry which can pose serious potential health risks to unsuspecting customers.
"The complexity and scale of this fraud means cooperation needs to happen across borders with a multi-agency approach.
"This year again, the results from Opson clearly reflect the threat that food fraud represents, as food adulterations cut across all kinds of categories and from all regions of the world. Sharing knowledge in one market may prevent food fraud in another and ultimately helps protect public health and safety worldwide."
The scale of the criminal operations was staggering, and in some cases profoundly disturbing, such as the nine tonnes of counterfeit sugar contaminated with fertiliser found in Sudan, or the 85 tonnes of olives that Italian police found had been 'painted' with copper sulphate solutions to enhance their colour.
In Greece, three factories producing counterfeit alcohol, complete with equipment to produce fake labels, caps and bottles, were raided, and police seized more than 7,400 bottles of fake alcohol and counterfeit labels.
In the UK, almost 10,000 litres of fake or adulterated alcoholic drinks, including wine, whisky and vodka, were seized; and in Burundi, more than 36,000 litres of illicit alcohol was seized in one raid, which also netted nine Kalashnikov rifles and ammunition.
The perishable food supply chain was no better. After arresting a man transporting four tonnes of meat illegally imported from India, Thai police uncovered an illicit network operating across 10 provinces and seized over 30 tonnes of illegal beef and buffalo meat unfit for human consumption, "destined for sale in supermarkets".
In Indonesia, officials seized 70kg of chicken intestines preserved in formalin, which is prohibited as a food additive, while in another operations, more than 310,000 illegal food products,  believed to have been smuggled in by ship from Malaysia, were found hidden behind piles of tiles in a warehouse.
Prior to the recent deadly terrorist attacks in Belgium, customs officers at Brussels Zaventem Airport discovered several kg of illegal monkey meat; while in France, officers seized and destroyed 11kg of locusts and 20kg of caterpillars.
In Hungary, Italy, Lithuania and Romania, customs and police have found counterfeit chocolates, sweets and non-alcoholic sparkling wine, which they said was all aimed at children and destined for export to West Africa.
Interpol actions in Africa have increased in recent years, and officials in Togo destroyed 24 tonnes of imported tilapia, which was found to be unfit for human consumption, and in Zambia, 1,300 bottles of fake whisky in original packaging which had previously been stolen from a warehouse was discovered. Police also seized 3,200 cartons of diet powder drinks which had had their expiration dates modified.
In South Korea, police arrested a man smuggling dietary supplements, which were being sold online as a natural product but actually contained harmful ingredients, and which were estimated to have generated $170,000 over a 10-month period.
False labelling also proved to be a common thread for all types of foodstuffs. In Australia, 450kg of honey was found to have been adulterated, while a consignment of peanuts had been repackaged and relabeled as pine nuts, posing a significant threat to allergy sufferers.
Cargo security intelligence firm FreightWatch International said: "Counterfeit and dangerous foodstuffs are a multi-million-euro issue, with product categories ranging from food and drink to pharmaceutical products, such as weight-loss supplements.
"While this significant law-enforcement success is welcome news, it also serves to highlight the  level of sophistication and globalisation within the illicit supply chain."