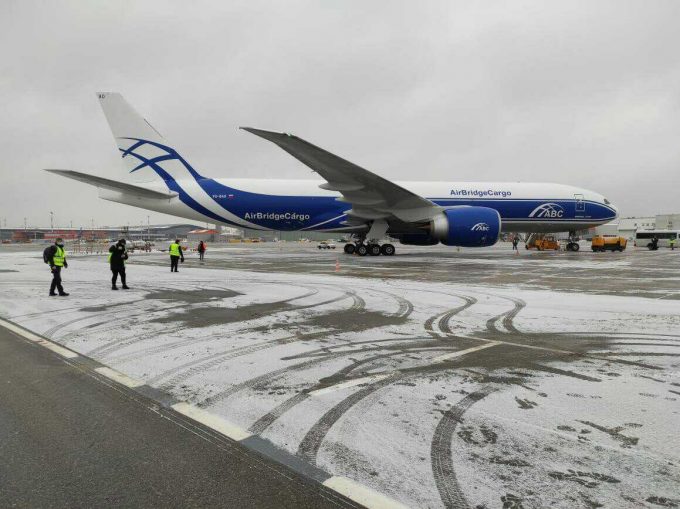 Air freight demand in Europe looks set to soften this month, but the currently strong rates are not expected to crash.
"Rates this week have pushed up further, we saw a general increase of $0.40 to $0.50/kg to Europe, while some of charter flights went up too, and commercial flights all increased prices," said one Chinese forwarder.
"It is mainly triggered by reduced capacity," he added. "The three flagship carriers in China cut some of their flights."
The forwarder picked out China Southern, which, he said had sent some aircraft for maintenance, resulting in a reduction in freighter frequencies to Stansted, for example.
He added that there were also fewer passenger-freighters in operation, while noting examples such as KLM taking its combi out of the market.
"Overall, I think the current situation is caused by less capacity, while there is still lots of PPE/ e-commerce cargo in the market."
However, Volga-Dnepr Group saw a new 777F delivered this week to Moscow, which is to start operating next week but is likely to be dedicated to just one of AirBridgeCargo's customers.
Despite the current market, forwarders believe it is set to slow again in the next week or so, although their observations don't include any impact on vaccine distribution.
"We can see demand on inbound and outbound beginning to dwindle," said one European forwarder.
"It may just be us, but usually we are a good barometer due to the various verticals we operate in like food, chemicals, automotive, retail and general manufacturing."
He added that several carriers were reducing schedules from mid-December.
"By the look of things, they are balancing supply and demand over Christmas and new year. I doubt rates will crash though, which normally happens, as there are limited flights operating and carriers will cut capacity."
The forwarder added: "I guess the market could cool down a bit from the middle of December. There is less cargo, apart from PPE, but also lots of charters might stop by then, as nobody would like to take a risk for that period. I don't expect rates to come down a lot due to less capacity."
The news follows data released for November, which show a fall in demand for the first time in six months, down 1 percentage point year on year, according to Clive Data Services. October demand was down 12% on 2019; November was down 13%.
Capacity outpaced demand, rising 3% from October, but chargeable weight increased by just 2.5%. Overall, there was 21% less capacity in the market than a year ago. Dynamic load factors fell to 70% for the second half of the month, down from 72% in the first two weeks.
"We saw a levelling-off at the end of October, which we stated might be indicative of a market which was cooling off a little, and this was indeed the case," explained Niall van de Wouw, MD of Clive.
"After six months of small but encouraging improvements, the stalling of demand in November – typically a peak month when we'd expect dynamic load factor growth – could be seen as a further negative indicator.
"However, we must contrast this with the impact of lockdowns and restrictions imposed by governments to slow the second wave of Covid, especially in Europe and the US, and the corresponding disruption to business continuity and consumer confidence.
"Against this uncertain operating environment, the global air cargo market in November arguably showed a degree of resilience."
The TAC Index said airfreight rates in November increased significantly from Hong Kong and China to Europe, month over month, by 30% and 24% respectively, although rates from Hong Kong to both Europe and the US flattened towards the end of the month,
Week-on-week analyses show China-Europe rates decreasing by some 6% towards the end of November.
"This is a fluctuating market," said Robert Frei, business development director at TAC Index. "The increase in rates is likely to be the result of airlines selling more capacity on the short-term market and forwarders securing air cargo capacity through charter arrangements.
"Overall, in November, we did not see the rates one would have expected, based on earlier anticipation of a strong peak season."