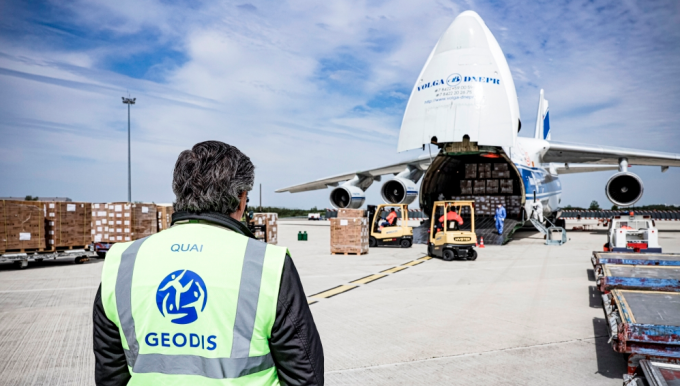 Geodis is the latest in an increasingly long list of forwarders to secure air freight capacity for the coming months.
Geodis has arranged a two-way flight schedule between China and Europe through to the start of next year.
It did not mention the carrier, but used an image of AirBridgeCargo(ABC) in a social media post. It partnered with ABC sister Volga-Dnepr in July for medical equipment flights.
The forwarder said it had spent some $70m on its "own controlled network", beginning a charter operation in March and a weekly flight in June, providing 400 flights so far.
"Now, with both freighter and passenger belly-hold space still in short supply, the logistics provider has announced a permanent schedule reaching into next year," it said.
But Geodis's website was quick to warn customers of high prices, noting data from WorldACD showing air freight prices some 65% higher than last year.
The flight will leave Shanghai every Monday and Amsterdam each Sunday. Customers will include a European auto manufacturer sending parts to its plant in China.
Onno Boots, Geodis' CEO for Asia Pacific, said: "It is vital for our customers in China to be not only assured of regular capacity, but also that their freight partner is controlling the transport service network, including flight operations.
"In addition, we are exploring options to establish a connection between China and India, as well as linking Hong Kong and Singapore in the network. These efforts aim to provide a hub that will seamlessly link with our Asia Road Network."
Stanislas Brun, senior VP global air freight, added: "Both the Amsterdam and Shanghai hubs are ideal for coordinating multi-origin and destination cargo. Our network of operations in Europe, as well as Asia, is designed to maximise connectivity, giving our customers full flexibility in terms of pick-up and delivery points."
Geodis has offered an AirDirect Mexico service since last November, from Hong Kong to Guadalajara, which it said served Lenovo.
"In this pandemic time, we are certain these fixed capacity services are a must-have for all shippers," said Mr Boots, adding that Geodis will soon announce air services between Europe and its ASEAN network.