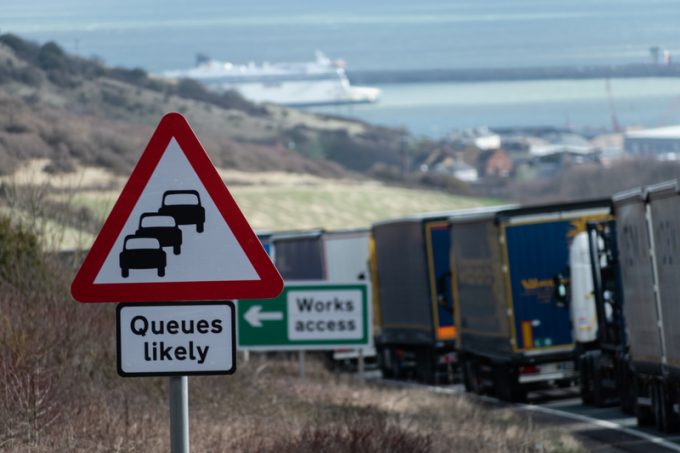 The UK government is "making villains of key workers" in logistics according to forwarders, as tensions between ministers and businesses rose to new levels this week.
A leaked letter from Cabinet Office minister Michael Gove to logistics organisations appears to pin the blame for expected queues of up to 7,000 lorries on companies being unprepared.
Mr Gove wrote: "The period of disruption for the reasonable worse case scenario is predicated on assumptions for how traders and hauliers would respond to this scenario. It assumes the volume of unready HGVs travelling to the border following 1 January 2021 will decrease over time as traders and hauliers change their behaviours upon encountering new border control and having goods or HGVs stopped or seized as a result of being non-compliant.
"While the assumption is that the risk of long queues and a constraint to flow caused by unready HGVs would diminish in the first three months, the actual flow of goods would depend on the length of time it takes for those exporting/ importing businesses that were not ready on 1 January to get ready for new requirements."
But BIFA director general Robert Keen said: "The government has received repeated warnings from all sides of the supply chain that neither businesses involved in trade between the EU and the UK, nor the freight and logistics sector that physically handles and manages that trade, is ready for the new procedures that will be in place from January 1st 2021.
"With just over 14 weeks to go before the end of the Brexit Transition Period, traders and logistics providers are still waiting for so much information and clarity from the government and are shocked by the lack of consistency in government policy, systems planning and procedures.
"Getting their retaliation in first worked for Carwyn James' British & Irish Lions in South Africa in 1974, but government making villains of the key workers who have been tackling the impact of the pandemic on the UK's supply chains, will not have the same success.
"Mr Gove says it is essential that traders act now and get ready for new formalities. BIFA says, give our members all the information they need, the resources they require and systems that actually work, and they will be more than able to do what is necessary. But don't start pointing the finger of blame in our direction when you have still to provide all of the tools to do the job."
Elizabeth de Jong, head of policy for Logistics UK, said that it "has long warned government of the potential for border delays after the UK leaves the EU, and while there is still time to put mitigations in place to avoid them, it will be a huge challenge for government and industry to achieve.
"However, it is also incumbent on government to ensure logistics businesses have details of and access to the UK's own logistics systems, including Smart Freight and GVMS, in good time so that adequate training and testing can be carried out." She also called for working guidance on port systems in France and Ireland. "With so much still to do, it is vital that all parties work together."
The British Ports Association's chief executive Richard Ballantyne added: "The government's worst-case scenarios are a stark reminder about the major changes that much of the UK's freight industry will have to embrace following the end of the transition period.
"In recent months there has been a flurry of government activity. Ports are working to ensure infrastructure is ready but there is still a lot to do. In particular, decisions policy makers need to agree in respect of specifications for infrastructure. However, in terms of the wider freight operations there is perhaps even more to do."
Mr Gove admitted in the letter, seen by The Loadstar, that in a "reasonable worse case scenario that between 40% and 70% of trucks travelling to be EU might not be ready for new border controls".
"For the short channel crossings via Dover and Eurotunnel, 30% to 50% of trucks might not be border ready when taking into account empty trucks that will not have the same border requirements.
"The lack of capacity to hold unready trucks at the French ports, or to turn away freight prior to boarding in the UK, could reduce the flow rate to 60 to 80% of normal levels at the bottom end of the readiness range. This could lead to maximum queues of 7,000 port-bound trucks in Kent and associated maximum delays of up to two days."
He added that both imports and exports could be disrupted to a similar extent. The letter also noted that while Covid-19 could reduce freight demand, it could also add to delays as businesses and Customs struggled with staff shortages and social distancing measures.
Logistics experts giving evidence at yesterday's Treasury Select Committee meeting sounded similar notes of warning, pointing out that companies had not been given sufficient amounts of detail to be ready – on top of the fact that most businesses have been struggling with the impact of the Covid pandemic.
"We are still missing vital guidance," said Dr Anna Jerzewska, trade adviser. "A number of companies left their Brexit readiness planning for 2020, but had other issues to deal with and are not in a position to act as quickly.
She added that "they need to know details at an operational level, and we are only getting some of those details now".
Giving examples, Tim Reardon, head of UK exit for the port of Dover, said that the port still didn't have its Wharf Approval, required for ports handling international goods. He also pointed out that funding for some of the infrastructure projects needed to be built would not be released until later this month. "Clearly that's quite tight," he said.
The government has only identified one site for lorries without the correct documentation, near Ashford, but Mr Reardon said more would be needed.
Ms de Jong said "for the vast majority, the clarity is not there… Businesses can't adapt at the 11th hour".
She estimated that 30 to 40% weren't able to prepare with the information currently available.
Allie Renison, head of EU and trade police for the Institute of Directors, said businesses were struggling to deal with Covid and that they "couldn't prepare without detail, they could only prepare after the act".