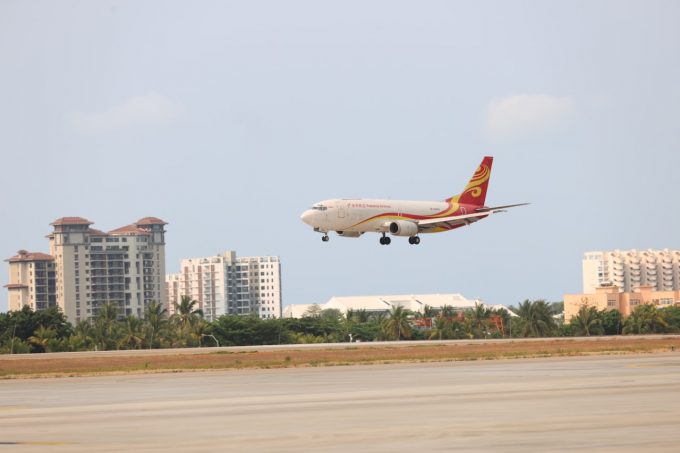 Even post-pandemic surging demand for cross-border e-commerce will see freighters dominating air cargo, according to Cainiao.
The Alibaba logistics unit launched its latest freighter route this week: a direct charter flight between Singapore and China's Hainan Island five times a week.
Home to increasingly popular domestic/tourist destinations of Sanya and Haikou, Hainan is seeing a 'luxury brand shopping boom' since the government tripled the annual limit for duty-free purchases last July to $15,000.
Sales are up 244% year on year, with February alone recording $736m of duty-free sales on the island.
Imported goods from Singapore land on shelves within 12 hours after clearing customs, Cainiao noted, adding that a twice-weekly freighter will also run between Singapore and Sanya, via Guangzhou, giving another option to access Hainan, other than "trucks and ferries" from hubs in South China.
Cainiao added: "Both routes aim to provide cross-border logistics services for global beauty and luxury brands to enter Hainan, and also to help export domestic e-commerce goods to Singapore, enhancing trilateral trade between Singapore, Hainan and China's Greater Bay area."
Beijing has been hyping Hainan as the "next Hong Kong", with a free trade zone and port developments going hand-in-hand with the luxury shopping boom. Cainiao said businesses would also be able to leverage Hainan's "facilities for consolidation of component products being brought in for additional work and assembly from Asean and beyond."
James Zhao, Cainiao's general manager for global supply chain, said: "We expect to open more direct cargo routes to link Japan, South Korea, Australia, New Zealand and Europe to Hainan, soon."
Indeed, Cainiao's freighter-led expansion shows no sign of slowing. Following the tie-up with Hong Kong Air Cargo for South-east Asian e-commerce shipments, a spokesperson told The Loadstar the firm had plans for "3,000 more charter flights."
"[This] will help us to achieve our goal of delivering in China within 24 hours and globally within 72 hours," the spokesperson added, without specifying when this ambitious target might be met.
As well as luxury goods, Cainiao said, the Covid-crisis had boosted demand for health and wellness products among Asian consumers, including exercise equipment and supplements. And the acceleration of online shopping since the crisis began will continue to drive freighter demand.
The spokesperson explained: "The introduction of wide-body freighters that can operate on long trans-oceanic international routes only demonstrates the demand generated by cross-border e-commerce logistics – a demand we believe will persist even after the pandemic, due to a shift in consumer behaviour.
"Even with the ultimate return of passenger lower-hold capacity, there is a high chance that the advantages offered by freighters will ensure the share of cargo carried by freighters remains high in global markets, especially in the world's two largest trade routes, Asia–North America and Asia-Europe, where more than 70% of air cargo traffic is carried by freighters."