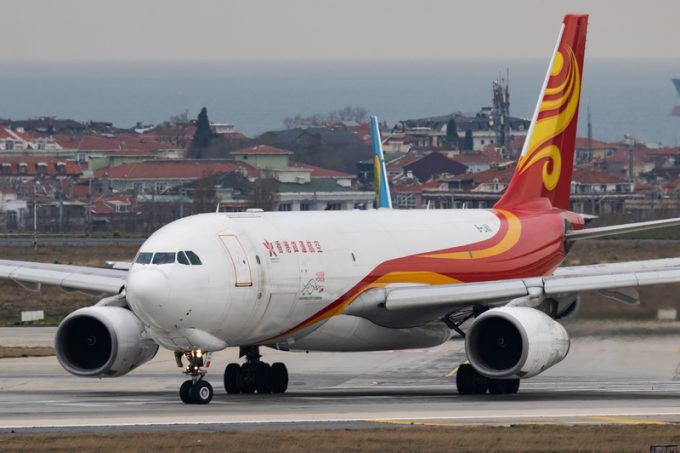 Alibaba's famed pledge of delivering e-commerce orders within 72 hours anywhere in the world is a step closer to fruition.
Its logistics arm, Cainiao, has signed a deal with Hong Kong Airlines' cargo subsidiary for South-east Asia.
Phase one will see Hong Kong Air Cargo operate daily flights to Manila, six-times-a-week flights to Bangkok and three-times-a-week to Kuala Lumpur, enabling the Cainiao logistics network to deliver some  225,000 parcels a week into the region.
Hong Kong Air Cargo, a subsidiary of struggling Hong Kong Airlines, operates five A330-200Fs.
Cainiao said its e-commerce from mainland China is usually moved to a Hong Kong warehouse for sorting and consolidation before going on to South-east Asia. But it said the Cainiao e-Hub was now integrated into the logistics chain.
"Goods can now be moved directly to the eHub, near the airport, to shorten overall delivery time."
Indeed, delivery times to the Philippines will be cut by 60%, Malaysian customers will see a 28% time reduction and Thailand 42%.
"Customers in these countries buying from platforms such as Lazada, the flagship e-commerce platform of Alibaba Group in South-east Asia, will be able to receive parcels from mainland China in as fast as three days," said the company.
South-east Asian e-commerce is expected to achieve a 23% CAGR, to reach $172bn by 2025, said general manager of Cainiao Global Supply Chain James Zhao.
"The partnership with Hong Kong Air Cargo will further safeguard air freight stability and cost efficiency to benefit merchants and consumers in the region," he added.
"In the near term, we aim to expand our air freight network to more countries and regions to achieve our goal of delivering globally within 72 hours."
Director, commercial at Hong Kong Air Cargo Jeffrey Zhang said: "This is a very exciting day for Hong Kong Air Cargo. It has always been our goal to establish Hong Kong as an express e-commerce hub and this partnership is definitely a step in the right direction."
Hong Kong Airlines has had a difficult recent history, however. In 2019, it was forced to retrench to local markets after a failed long-haul expansion attempt.
Elsewhere, CMA CGM Air Cargo confirmed this weekend it had added Atlanta and New York to its destinations out of Liege with its second A330-200F. It has two more aircraft in its fleet and it is expected, according to sources, to set up a network out of Liege of destinations in the six-hour or so flight range.