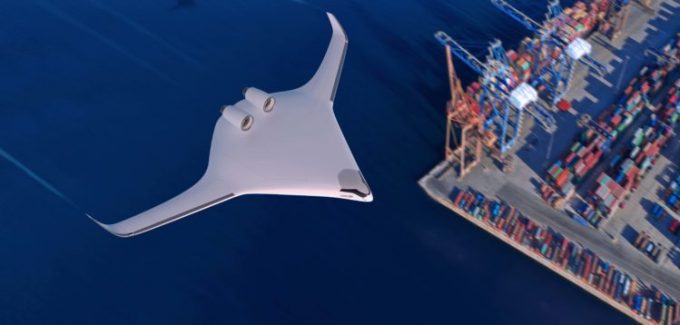 Flexport has placed an advanced purchase commitment for two of Natilus's larger cargo UAV designs, the 100t, pitting cargo drone technology squarely in competition with conventional aircraft.
The US company is producing the world's first purpose-designed and manufactured autonomous aircraft for air freight transport and, with others, including Volatus Aerospace, Astral Aviation, Aurora and Dymond, Flexport's order brings Natilus's advanced purchase commitments to some $6bn for as many as 440 unmanned aircraft of varying sizes.
They all conform to 'blended wing body' (BWB) geometry, where the aircraft's fuselage generates lift along with the wings. And despite its unusual appearance, Natilus's designs are based on established aerodynamic principles, similar to the Northrop Grumman B-2 Spirit, a stealth bomber.
The 100t, with two high-bypass turbofan engines, 110 tonnes of cargo capacity and 5,400 nautical miles of range, will likely be one of the largest examples of a BWB aircraft, outside of renderings.
Natilus CEO Aleksey Matyushev said: "In parallel with the development of our family of autonomous aircraft, we are working closely with customers to increase the efficiency of air transport and make it more competitive and safer than ocean shipping.
"Today, there are only two ways to move cargo internationally, by air and by sea. The difference between the cost and time of these two modes is dramatic. Sea freight is currently 13 times less expensive than air freight, but 50 times slower in delivery.
"Natilus intends to revolutionise the transport industry by providing the timeliness of air freight at an affordable cost reduction of 60%, making air cargo transport substantially more competitive."